6 ways to improve your B2B lead generation strategy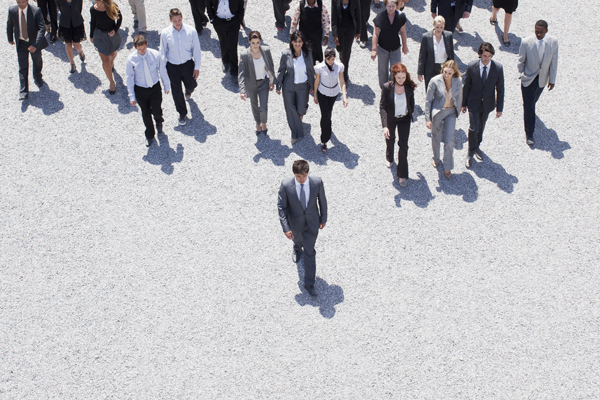 In the era of the technology-empowered customer, traditional B2B lead generation strategies no longer cut it. A mix of inbound marketing, social media and content marketing could be the answer.
A business without the right leads is like a car without an engine; no matter what kind of fuel you put into it, it's not going anywhere fast. However, generating qualified leads isn't easy and in the B2B space it's down-right difficult.
With a broadsword lead gen strategy, you can swing around indiscriminately and grab leads from all over. And while casting a wide net may yield some worthwhile leads, you'll also pull in a tonne of junk leads too. Plus, your results will be ineffective if your lead gen campaign is being measured on a CPA/CPL basis. If you can't find the qualified leads – the leads that are most likely to convert into something profitable – you're just wasting money.
Instead, drop the sword and pick up the scalpel. Start by asking: Who are our customers? What are their common interests? Are our prospects mostly online or offline? If that information is available, then your approach can be tightly focussed to define your objective, pointing you directly to your prospects.
With your targets identified, here are six ways to hone your B2B lead generation strategy, using content marketing, social media and inbound marketing:
1. Prioritise inbound leads over outbound
Traditional marketing – TV commercials, print advertisements, internet banners, email mailing lists and cold-calling – is considered outbound marketing. Typically, these outbound, broadsword lead generation techniques cast a very wide net, connecting with hundreds of thousands, or even millions of prospects.
While outbound marketing works, it's not as effective as inbound marketing. Not only are the leads less qualified, but outbound is also more expensive. In fact, outbound leads cost on average 61% more than inbound ones.
Inbound marketing, when done well, meets your customers where they want to be met. By creating quality content your customers are genuinely interested in, they're drawn towards your offers and brand because they want to learn more. Then, because the offers are relevant, the leads are more eager to become paying customers.
2. Use CRM to build better client relationships
Good lead generation means you're also keeping track of all of the pertinent data surrounding those leads. Customers increasingly expect to have a 1:1 relationship with businesses, and if you're losing track of their information or it's not being updated, it sends the message that you don't really care about them.
Investing in a proper customer relationship management (CRM) system will allow you to gather, store, analyse and track lead data, helping you personalise the customer experience.
A good CRM system can also help generate and convert leads by sifting through massive amounts of raw prospect data to locate the most promising prospects, gaining meaningful customer insight. With this business intelligence, you can quickly and inexpensively disseminate relevant information to a wider range of targeted potential customers.

3. Engage your customers using content marketing
Good content marketing has the potential to drive a significant amount of prospects into your sales funnel. Content marketing presents a great opportunity to create relationships and trust between your brand and your prospects. If your company is a leader in its industry, your content marketing efforts can also be the stage for your company's experts to share their unique perspectives and opinions.
4. Don't underestimate visual content
Human beings process what we see 60,000 times faster than what we read. And our fast, social media-dominated lives are increasing our appetite for easy-to-digest visual content. Therefore, it should be an important component of your content marketing and social media strategy.
Informative, useful and shareable infographics are a great way to visually present a large amount of complex information, yet the popularity of video continues to skyrocket. According to Syndacast, 74% of all internet traffic in 2017 will be video. While, in 2016, tweets with images received 150% more retweets than tweets without images.
5. Use social media channels
In recent years, social media has become a legitimate lead generation channel, with ad formats maturing beyond just engagement metrics. With Twitter cards, Facebook's objective-based advertising and LinkedIn's sponsored ads, social media has come a long way in cementing a spot in revenue-based lead generation campaigns.
6. Provide value and exercise patience
Successful lead generation is a result of consistently distributing content and offers that provide real value to your prospective leads. It takes patience. But by continuing to nurture your prospects this way, you'll increase the chance of conversation – more so than less-patient competitors.
Yes, there are quicker and dirtier lead generation techniques that can be used to bring in potential customers. But in the long run, these won't be as profitable as those leads that you draw in through the targeted and steady process of effective lead nurturing through inbound marketing, content marketing and social media.
Download the State of Marketing report today to learn how you can get the attention of today's technology-empowered customers through effective marketing techniques.