All the excitement from Salesforce Basecamp Melbourne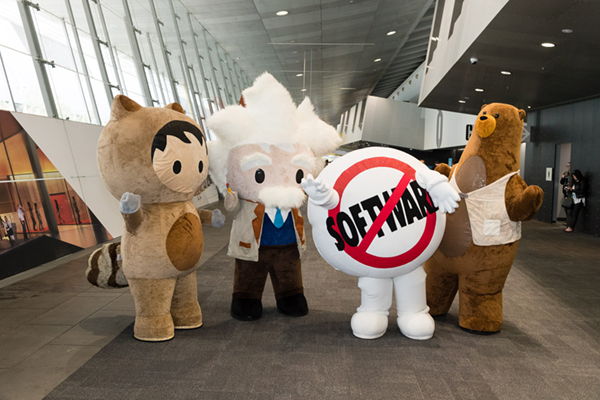 Salesforce Basecamp has wrapped up after visiting Hong Kong, Auckland, Singapore, Mumbai and Melbourne. Here's all the action from our final stop - Melbourne.
Over 2500 aspiring Trailblazers registered for Salesforce Basecamp Melbourne yesterday to learn how to better connect with their customers, how to provide world-class customer experience no matter the channel, and how to create personalised brand experiences at every touchpoint. Here are just some of the many highlights from the action-packed day.
Keynote: How CX and technology fuel growth
Blake Hutchinson, GM of Luxury Escapes, joined our Trailhead Community Evangelist Megan Petersen to speak about how the company's unique approach to CX has fueled fierce growth – Luxury Escapes is Australia's fastest growing travel business, having brought on 2 million members and reached $200 million in annual revenue in just four years.
How? By being smart about how they speak to their customers. The digital-first company embraces a true omnichannel experience. It's just opened its first shopfront, runs town halls and roadshows, and uses every interaction and piece of data to find out more about its customers and build a relationship with the brand.
Luxury Escapes also creates opportunities for customers and brand advocates to speak to each other and contribute to that CX. "We're investing in communities," Blake told the audience. "We're hoping to do a lot to enable our customers to share their experiences and have conversations with each other."
Find out more about Luxury Escapes' and Blake Hutchinson.
Next up, Tom Karemacher, Area Vice President, Commercial Sales at Salesforce, took the stage to talk about the fourth industrial revolution.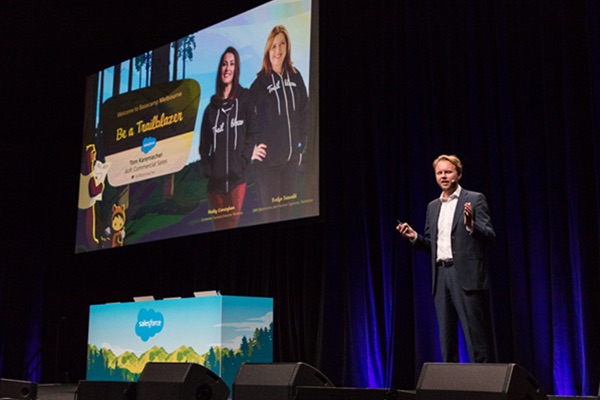 There are 75 billion smart things in the world - 75 billion connected devices. With all that info, how can you connect with your customers? We know the answer is technology. We've seen our Trailblazing customers turn to technology for the answer, and succeed.
"We've recognised in our own database of customers that there is an abundance of stories of pioneers blazing trails – we're here to share those stories and learn from them."
Tom introduced our Trailblazing customers, Vita Group.
"If I was asked about the next phase of growth, my advice would be to put the customer at the centre of everything you do," said Justin Maskey, Vita Group's General Manager of Information Technology. Justin brought the Vita Group story to life, taking a deep dive into how technology has helped the organisation thrive in Australia and New Zealand.
To find out more about how Vita Group does this, watch the video:
Salesforce and IBM partner for customer success
"Salesforce and IBM transform customer interactions," said Paul Baptist, our Director of Solution Engineering. "If we take Einstein and Watson insights and combine them, this helps you to connect to your customers in a whole new way."
We've built a strong agreement with IBM – for the benefit of our customers. Find out more about it in the video below.
Head over to Trailhead to learn more about Einstein – see how AI is transforming CRM with smart predictions, intelligent recommendations and timely automation.
Success Expo and Campground
Customer success is everything to us – as Tom Karemacher said in the Keynote "We only grow when you grow" – and our Campground showed customer success is vital to the Trailblazers in the room too.
We held 12 Circles of Success, 21 ask the expert 1-to-1s, and a Cloud Services breakout bursting at the seams – there are a lot of brilliant people around Melbourne today working on connecting with their customers, improving their organisations and putting everything they learnt into action!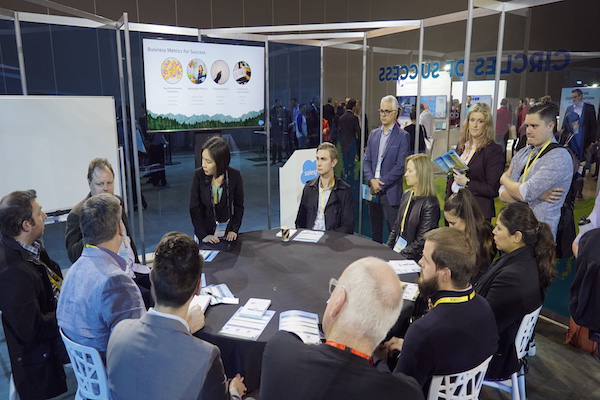 Locknote: AI for humanity
Katrina Read asked the Locknote audience to imagine a world where every interaction is personalised – as though you're the only one receiving every ad, mobile offer and email, and you're experiencing unique website, social and in-store visits.
In the past technology has often been the one thing getting in the way of a great experience. A robotic voice on the other end of the phone dehumanised the customer connection – the use of tech let us down with its inability to master empathy, serendipity and privacy.
Now, AI allows us to create great customer connections – it allows us to use technology in a way our customers can appreciate it.
And augmented reality is one of the ways we can engage.
Soul Machines joined Katrina on-stage to inspire the crowd – to talk about their world-first digital employees that are being used by some of the biggest corporate brands in the world in banking and finance, software and technology, automotive, and healthcare.
From digital sales and customer service agents to digital celebrities, Soul Machines literally puts an emotionally intelligent and responsive human face on AI. Their world leading technology uses brain models to bring their digital humans to life from its cloud-based Human Computing Engine.
"Humanising computing provides broad and deep opportunities to change the way we connect with machines," said Shaun Paga, Soul Machines Director of Business Development ANZ.
And a digital assistant is not about replacing a human worker – it's about the way in which we augment and repurpose the roles of employees, improving efficiency and productivity, while empowering employees with information and resources to create real connections with customers.
Katrina closed the session by throwing down a challenge: "Look through your customer journeys, and see where you could add empathy. Find moments of serendipity and identify moments of privacy – when you should not connect." Because now you can.
Giving back
Our Ohana volunteers were also on the floor in Melbourne, sharing the message of Salesforce.org's integrated philanthropic 1-1-1 model.
They asked attendees the question, "What if every company contributed 1% of their resources – product, time and profit – to improving the world we live in".
We had so many great conversations about the 1-1-1 pledge!
And so much more
Salesforce Basecamp Melbourne was a massive day – full of advice, demos, expert insights, inspiration and motivation, for sales, marketing, service, developers, admins, small business owners and more.
Thanks for joining us!
If you missed the action, catch up on Twitter, and check out our events page to make sure you're in the loop for next time.