Why Salesforce Basecamp Melbourne 2017 is a must-attend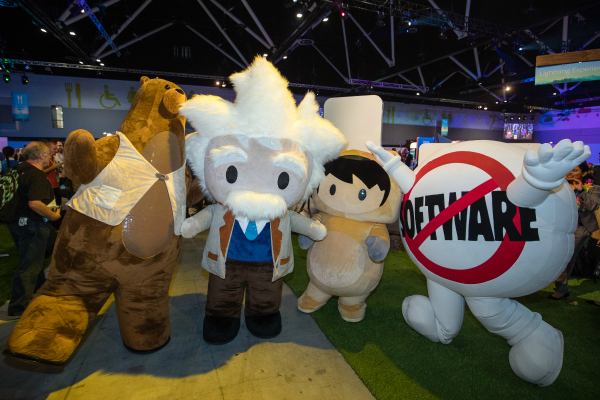 If you're yet to register for Salesforce Basecamp Melbourne, here's why you don't want to miss out.
On Wednesday 27 September 2017, the Melbourne Convention and Exhibition Centre will be full of people like you. People who want to be their best, and connect with their customers in a whole new way.
Your trail to customer success starts here
Salesforce Basecamp is your opportunity to learn new ways to connect with your customers. Access all the inspiration, education and technology you need to accelerate your trail to customer success. Plus, it's free to register.
Hear from a line-up of innovative Trailblazers, industry experts and global Salesforce executives on the future of customer engagement and how AI is humanising the customer journey, along with a whole lot more.
Plus, learn how to leverage the power of the Customer Success Platform – the world's smartest CRM. Hear how the cutting-edge technology is helping Salesforce customers work smarter and be more productive, while creating powerful, individual customer experiences that drive loyalty and growth – and how you can do it too.
Salesforce Basecamp is a complete learning experience. You'll not only have access to global keynote speakers and industry-specific break-out sessions that explore topics in-depth, but you'll also have the opportunity to network with peers and share ideas. In between sessions, explore the Customer Success Expo, where you'll discover new products, plus Salesforce experts will be on-hand to help you solve specific business challenges with technological solutions.
Salesforce Basecamp Melbourne has so much on offer. With tailored content specific to your industry, here's a closer look at what you'll learn:
Sales: how to turn leads into cash, fast
In today's competitive marketplace, sales teams must connect with customers in new ways and develop deeper relationships, while driving maximum sales productivity.
At Salesforce Basecamp, you'll learn from industry leaders how to supercharge your sales efforts, and sell smarter and faster.

Customer service: create world-class service environments
There's a new breed of customer in town, and they're hyperconnected, mobile and more empowered than ever before, and customer service teams are on the frontlines of delivering on these new customer expectations.
Whether this means you're having to optimise your operations or transform your business, your customers expect you to deliver proactive service across a multitude of channels. At Basecamp, you'll learn how to do this, and deliver service for today's mobile-first world.
Marketing: create seamless 1-to-1 customer journeys
In a world where customer experience is king, relevant and contextual interactions are the keys to the kingdom. At Salesforce Basecamp in Melbourne, you'll discover an evolution in marketing that puts the customer at the centre of every experience with your brand — from awareness and acquisition to retention.
Learn how to get smarter and more predictive about your customers, and create seamless 1-to-1 customer journeys and join us in the expo to hear the findings from the new State of Marketing research report.
Small business: find, win and keep customers
Small and growing businesses are nimble and can quickly adapt to the changing expectations of your customers. But, SMBs need a foundation for growth, using technology that scales beyond spreadsheets, manual processes and disparate solutions.
Learn from other small business Trailblazers, and hear how they are solving the challenges they face today, while preparing for the success they expect tomorrow.
IT: build smart experiences that people love
IT currently stands at a crossroads of change. Sales, marketing and service departments are increasingly turning to IT teams, looking for strategic partnership in creating new experiences that deliver on increased customer expectations. Yet, the battle between finding time for innovation and 'keeping the lights on' is real. Add in legacy systems and infrastructure, and a lack of developers, and it's a serious challenge.
Find out how IT Trailblazers are using visual development tools, open development frameworks and machine learning to empower users, admins and developers to work smarter and transform how IT operates.
No matter what industry or role you're in, you'll learn how to innovate, grow and transform your business. Register for Salesforce Basecamp Melbourne.