9 Aspects Of The Perfect Sales Proposal
How to write a sales proposal
Many salespeople front-load their interactions with prospects. Hundreds of cold calls convert into dozens of meetings and then a handful of sales proposals. Believing they have already crossed the finish line, sales reps send pre-made proposals out with the expectation that they have already secured the prospect's business. Instead, clients lose interest when they receive an impersonal document that simply states cost and deliverables.
To craft the perfect sales proposal, we've listed nine features that help salespeople keep prospects engaged, excited, and eager to move forward.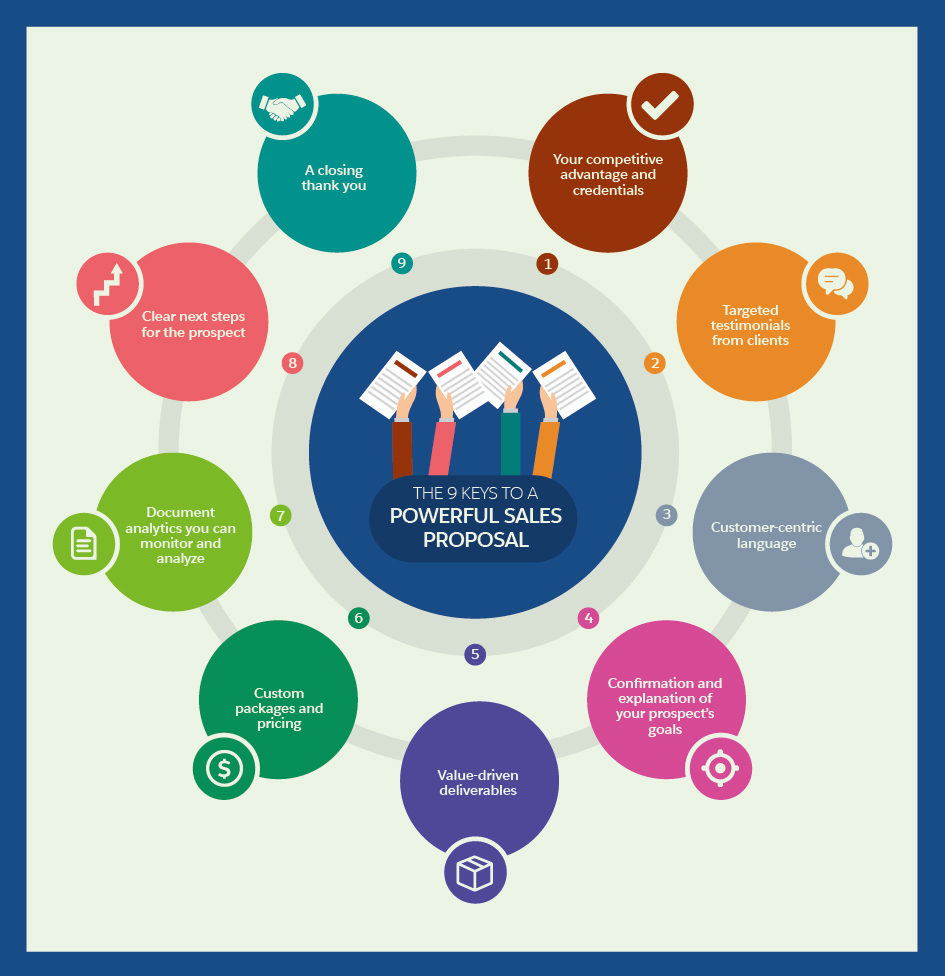 1. Competitive advantage and credentials
Reinforce the fact that the customer should choose you. Quickly list the unique advantages you, your team, and your product offer, alongside relevant credentials. Although you already mentioned these things during earlier conversations with your prospect, it's important to bring them up again. Doing so helps you:
Remind potential customers why your proposal is worth consideration.
This is especially useful for individuals you haven't directly spoken with because they may be key decision makers who are unfamiliar with what you bring to the table.
Remove doubts that would otherwise compromise the sale.
Buyers can be fickle, as is their prerogative. A reiteration of your credentials may encourage them to be even more optimistic about working with you.
2. Targeted testimonials
In your sales proposal, include endorsements from clients you helped in the past. Positive customer testimonials demonstrate what businesses are able to accomplish with your product or service. This allows prospects to put themselves in your customers' shoes and better understand what they may gain from purchasing your product or retaining your services. For maximum impact, highlight testimonials from customers your prospects are familiar with, can relate to, or directly compete with. With each testimonial, include:
The customer's name, title, and company
A headshot of the person being quoted
Specific solutions they purchased
Quantifiable results
3. Customer-centric language
Carefully consider what you say and when. Within your proposal, use words that focus attention on your customer's challenges and goals. When you mention the solutions you offer, clearly state how they help your customer. Put your prospect in a cooperative mental state with words such as "our," "together," "us," and "we," and use language and terms they are familiar with. Avoid assuming they understand any of the jargon you might use with your colleagues.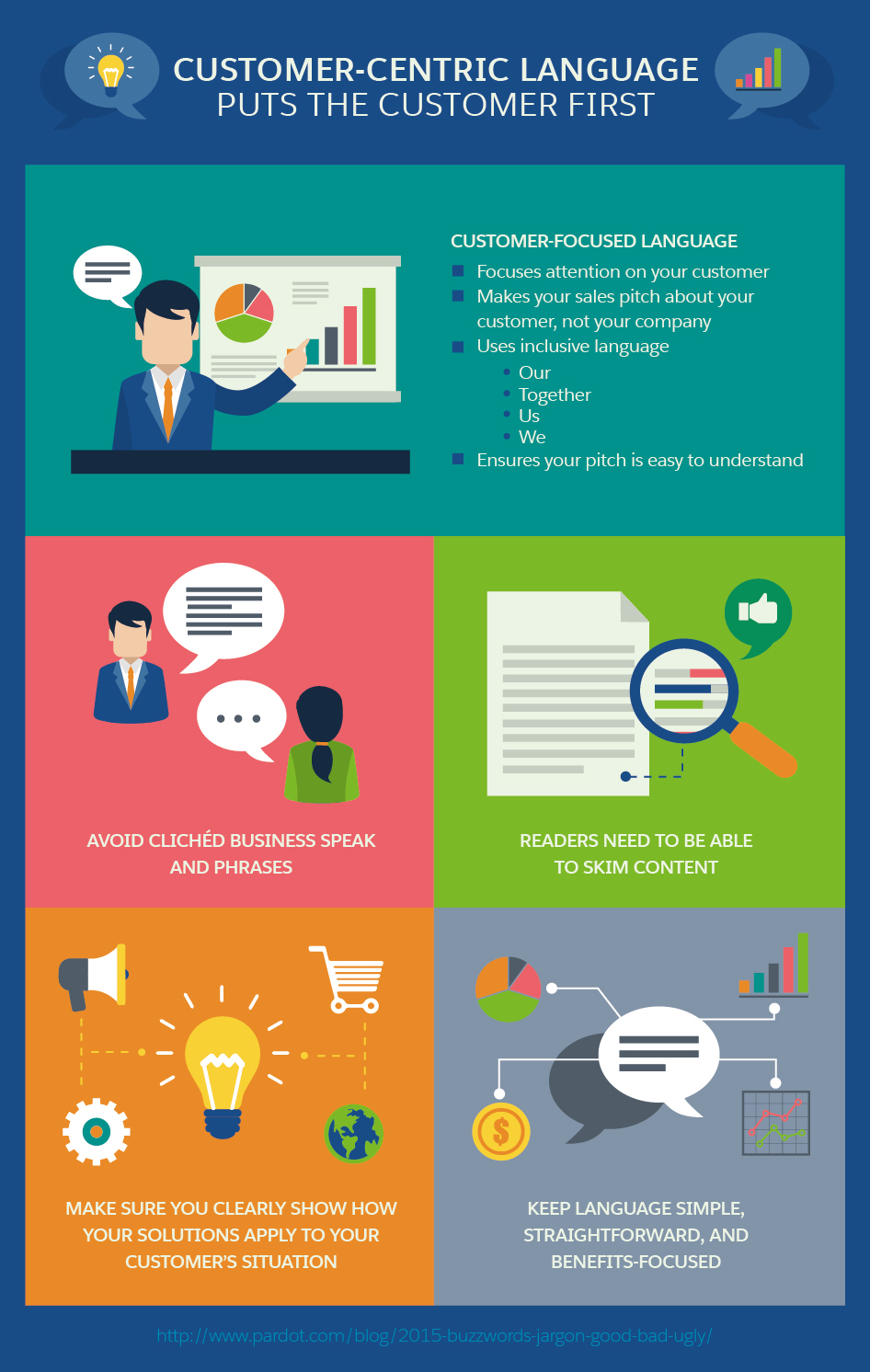 4. Confirmation of goals
Clearly state your potential customer's problem as you understand it and list what you believe to be their main goals. This reassures the buyer that you both are on the same page. If there is a misunderstanding or additional goals, your prospect will surely correct you.
Though it may seem redundant to summarize your understanding of what your client wants to accomplish, it prompts buyers to be more honest about what their needs truly are. This allows you to suss out a more accurate picture of what your client wants in an ideal arrangement. It also gives you a chance to rework your proposal and sales pitch—if necessary—so you may effectively address the issues your customer cares about. Therefore, if you don't get it perfect the first time, you will surely provide a proposal that will thrill your client the second time around.
5. Value-driven deliverables
Recently, a marketing agency owner told me he was able to double his close rate with one simple change to his sales proposals: With each new proposal, he provided a written explanation of his services. He also outlined the process he would take to craft each deliverable and added notes on what the expected outcomes should be.
In the past, his sales proposals featured a basic list of available services alongside cost. For recipients, though, he learned that this didn't engage them. Most understood what "social media management" meant, in theory, but it became a lot clearer when his proposals stated he would post five new updates every day to his client's Facebook, Twitter, and LinkedIn accounts at times when the client's audience was available and engaged. He even added that he would take a systematic approach to testing fan and follower engagement at different times of the day to confidently identify which times were the best to post. Finally, potential clients understood what they would receive in exchange for his monthly retainer. Knowing he would take a methodical approach to social media management, customers could more easily justify the cost.
6. Custom packages and pricing
Customers have a habit of changing their minds at the last minute. For example, when people shop online, they typically add more items to their cart than they end up purchasing. During checkout, they may increase the quantity of their favorite items and remove any products they no longer want. Sometimes, too, they continue shopping and add extras they never anticipated buying. After checkout their order may have changed entirely, but for the better.
In B2B sales, buyers exhibit the same impulsive behaviors. Fortunately, you can use their indecision and spontaneity to your advantage by offering customers the option to expand or shrink the scope of the engagement to fit their current needs and budget. According to sales expert Natalie Davies, "Your sales proposal should offer some choice and options for your buyer. Not only will this let you sneak in some other (and more expensive) alternatives or promotions, but will make it seem that you've taken the time to craft a personal offer for your potential customer to get to the point of requesting a proposal."
7. Document analytics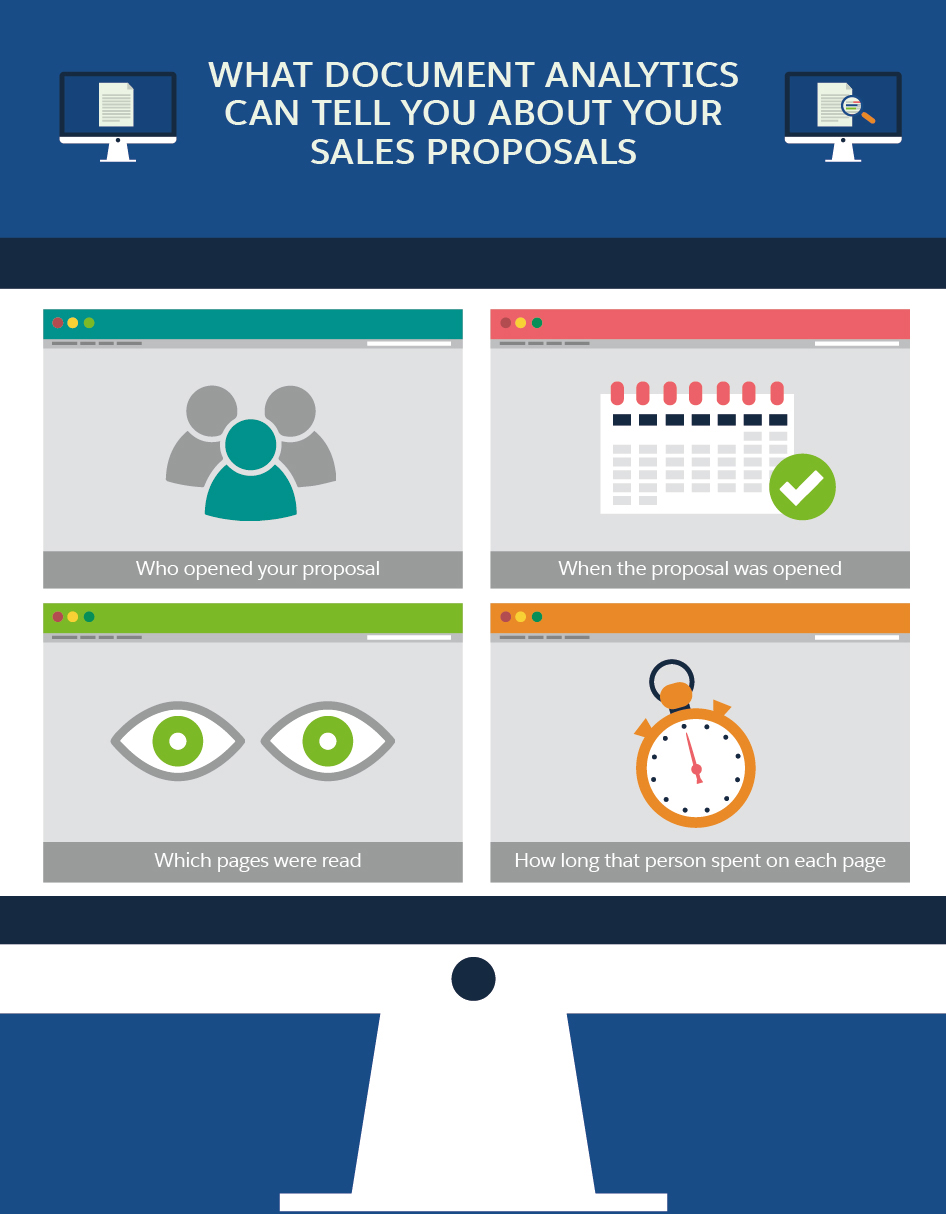 With document analytics, you can send proposals to prospects and gather what Adam Metz calls "deal intelligence." Metz notes that document analytics answer questions such as:
"Why is this deal suddenly stuck?"
"I feel like one of the prospect's team members isn't telling me something, and it's holding up our deal. What is it?"
"Why is this particular decision-maker resisting change to the status quo?"
Proposals with embedded tracking also provide the following information:
Who opened your proposal
When that person opened your proposal
Which pages that person has read
How long that person spent on each page
Generally, a high number of opens is an indicator of interest. It may mean the recipient is constantly referencing your proposal as he or she reaches a final purchasing decision, or that the recipient forwarded your proposal to colleagues who are also evaluating it. The advantage to knowing when someone has opened your proposal is that you can plan a timely follow-up. Being aware of exactly how much time a person has spent reading certain pages may reveal what truly matters to your customer. If someone only glances over a page or skips it, then you can assume their focus is elsewhere. However, if a customer spends a majority of his or her time analyzing a specific page, it is likely they may have further questions or concerns about that page's contents. For instance, if your client spends several minutes looking over your pricing page, he or she is likely price sensitive. To close the sale you may want to follow-up with a specially discounted offer.
8. Clear next steps
Your sales proposal should have a clearly defined call-to-action. After your client has reviewed your offer, they should know what to do next. At this point, you may prompt them to call or email you to accept the terms of your proposal, or provide written acceptance by signing the proposal.
E-signatures save time and hassle by allowing customers to execute the contract without having to print, sign, and scan it. Also, be sure to add an expiration date for your proposal. This creates a sense of urgency for clients who know they must accept or decline your offer before it expires. Communicate that if the client fails to respond to the offer before its expiration date, it may mean they will have to re-negotiate terms again later.
9. A closing thank you
In business, a bit of courtesy goes a long way. At the end of your proposal, thank your prospect for all the time and information he or she has given you. By showing gratitude, you do not necessarily guarantee a sale, but you become more likable. This may increase your chances of continuing your professional relationship with your prospect. Although you two might not strike a deal right away, there is always the chance that he or she may share a warm referral to another business that can use your services, or that you may work together in the future.

Share "9 Aspects Of The Perfect Sales Proposal" On Your Site