MQL to SQL: Your Lead Qualification Checklist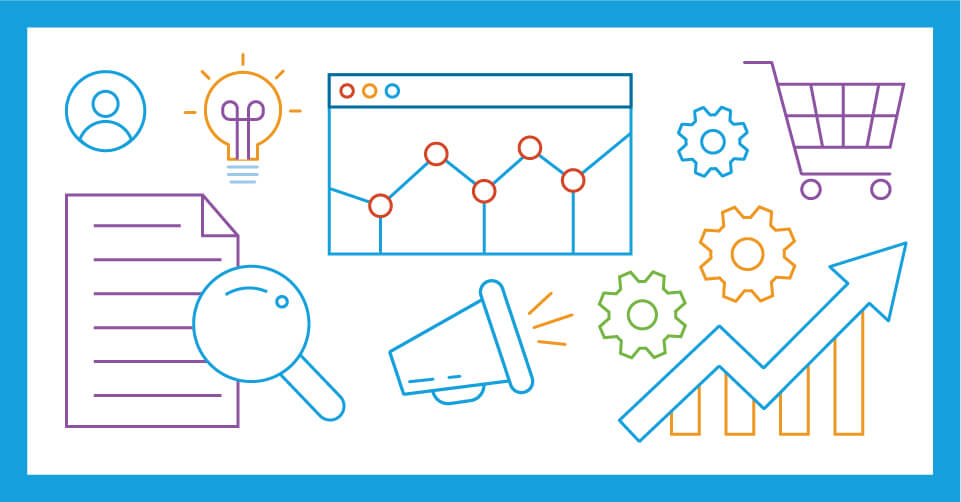 By Danny Wong 
An important step in sales is determining the quality of a lead and where they are in the customer journey. Once you have that information, a thorough lead qualification process can help you streamline your approach in converting Marketing Qualified Leads (MQLs) to Sales Qualified Leads (SQLs). 
First, it's important to define a lead. This could be a prospect who registered for your webinar, downloaded a white paper, or signed up for a product demo. Next, you have to qualify your leads. Investigate their industry, company size, needs, buying authority, interest in your solution, and urgency. 
Once you determine what their profile looks like, then you can segment your leads and provide targeted messaging to move them downstream through each successive step of the sales funnel.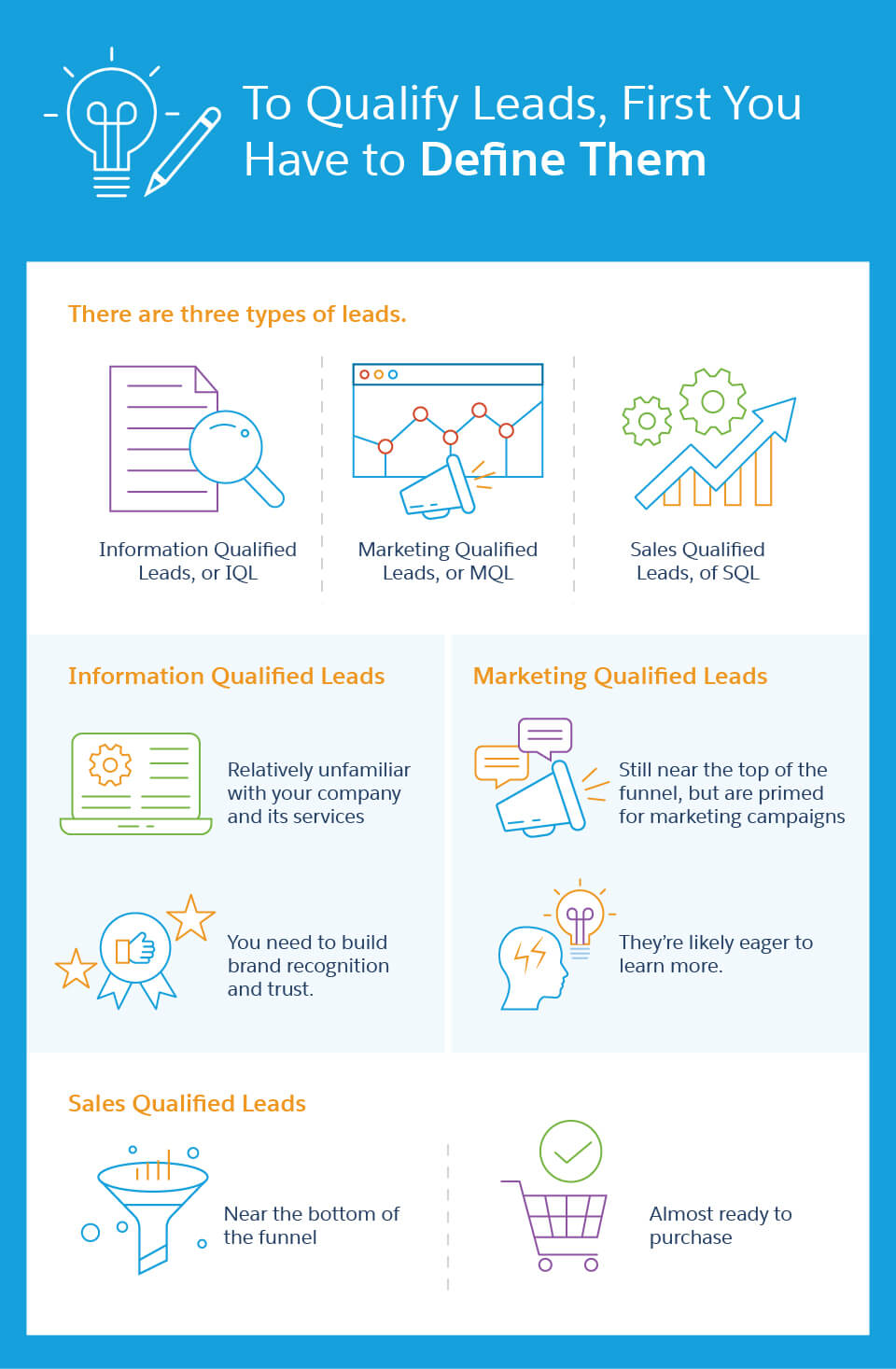 From IQLs to SQLs: A Brief Lead Qualification Definition
In sales, there are three types of leads.
Information Qualified Leads

Marketing Qualified Leads

Sales Qualified Leads
Below, we define each to help you categorize your customer contacts.
Information Qualified Leads (IQLs)
Information qualified leads are audiences who are relatively unfamiliar with your company and its services. 
In order to convert these leads, you need to know who they are and what they want. Absent data on your IQLs, you must make contact and deliver valuable information that can help move the prospect through the sales funnel. Offer a high-level overview of your products and services along with case studies and other marketing materials to gauge their interest and need for your solution. 
In some cases, your main focus with IQLs is to build brand recognition and trust.
Marketing Qualified Leads (MQLs)
Marketing qualified leads venture further into your sales funnel. 
They demonstrate an understanding of how your product or service can help them achieve more of their goals. At this stage of the customer journey, your company should have several user interactions, potentially including email inquiries, responses on live chat, or automated email drip campaigns they've opened. MQLs match your target audience profile and have developed a sense of brand familiarity and affinity. 
They are eager to learn more, so it's your job to frequently engage them with new information and special offers.
Sales Qualified Leads (SQLs)
Sales qualified leads are almost ready for purchase. 
To successfully qualify an SQL, you should complete the following:
Develop an adequate business case for your proposed solution.
Determine if your initial point of contact can help you facilitate a final purchasing decision among stakeholders on their end. 
Establish a direct or latent need your offering can fulfill. 
Estimate a timeline to purchase and build ongoing lead nurturing strategies. 
With these opportunities in hand, your sales team will be better equipped to move these leads to the negotiation stage and then through to purchase.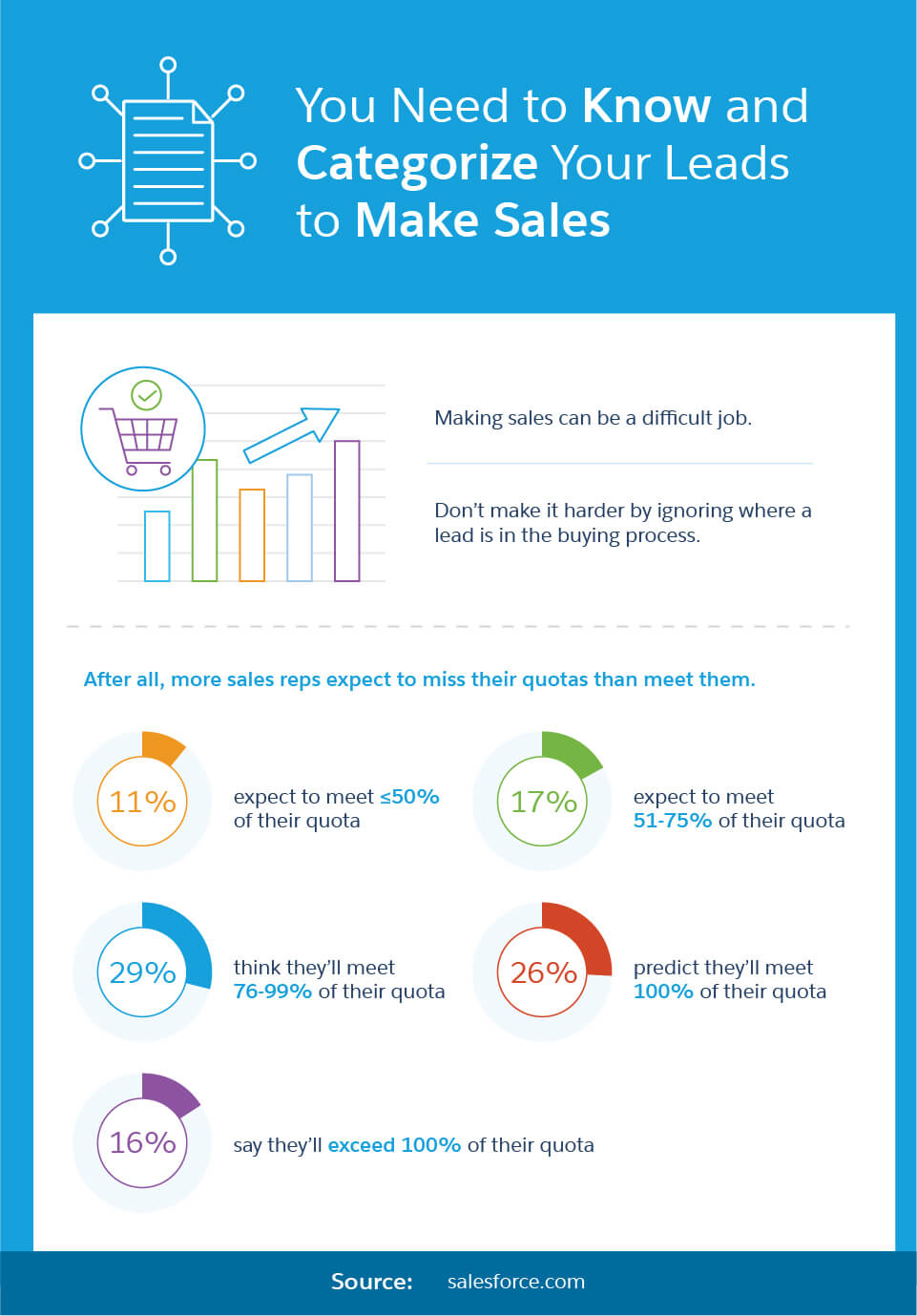 How to Create Your Lead Qualification Checklist
Your lead qualification checklist will help you focus in on each visitor in your funnel, as well as on your outreach to generate new leads. 
Segmenting your audience into the right places within the sales funnel takes some precision, so it's useful to have a strategy that helps you keep all of the pertinent points in focus.
Apply this checklist to evaluate each lead and place them in the right category for further communication.
Lead Qualification Checklist
Consider their profile. Understand who your potential customer is and if their characteristics align with your main buyer personas. Once you understand your target audience, you can bucket leads into different customer segments.

Evaluate their needs against your potential solutions. Investigate what matters most to your prospect and whether or not your offerings can be a business priority for them. Ultimately, you want to make sure you have something they can use to benefit their organization that they also want to use. 

Ask about their decision-making process. Discover who else is involved in the purchasing decision and how you can influence the appropriate stakeholders. This will help you figure out the best methods for generating buy-in across all relevant parties. 

Compare yourself to the competition in the buyer's eyes. Your market position and competition are both integral parts of understanding your target audience. Ask your lead what they know about your company and your competitors. Determine what they like about your services and what they prefer from the competition. Then, develop messaging that helps your products and services stand out. 
A great lead qualification process enables your sales team to close more deals with less effort. Since a lot of your marketing outreach can be automated, building a great lead qualification protocol frees up more resources for your team to use in converting qualified leads to customers.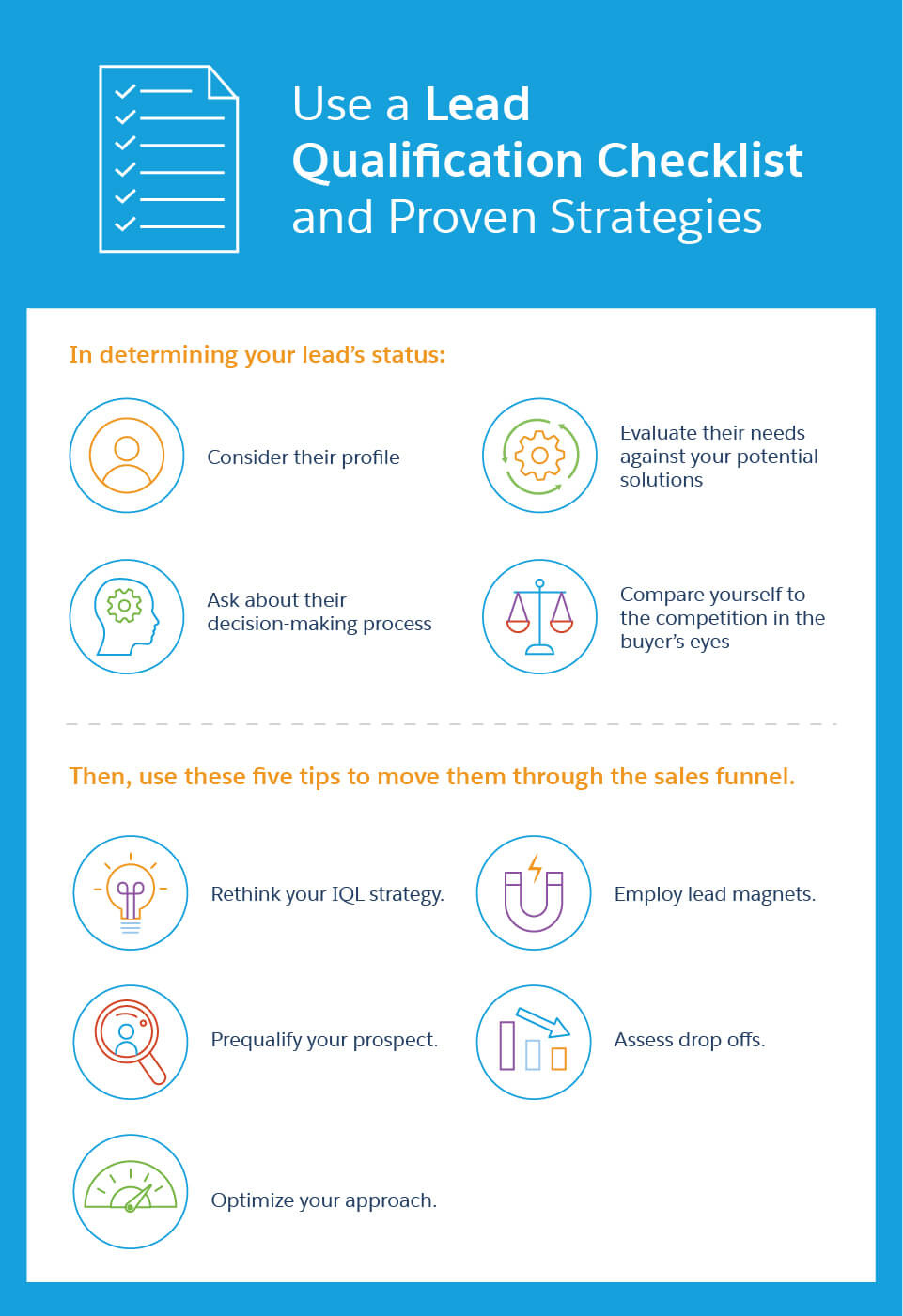 Five Tips to Move More Leads Through the Sales Funnel
Once you know how to qualify leads, you need to have a strategy to guide your leads through the sales funnel. Your strategy can follow a set pattern that you repeat as you help potential customers progress from one stage to the next.
Here are five simple tips to help you move leads through your sales funnel successfully.
Rethink your IQL strategy. This stage is where your audience first becomes aware of your brand, and it's important. Most customers have to hear your name repeatedly before they ever visit your website, let alone make a purchase. Your IQL strategy should include finding your target audience where they reside, whether that's on a social media platform, through a vertical partner, or through traditional advertising. While some leads may actively seek you out, most of your IQLs will discover you through your company's larger brand awareness efforts.
Employ lead magnets. Lead magnets are free offers in exchange for contact information. Offer them to audiences who are in the research stage of their purchasing journey. This develops positive brand affinity, making audiences more receptive to further marketing messages. Lead magnets might include free webinars and trainings, free ebooks or tutorials, or checklists and other handy planning strategies prospects can use to help them solve problems with their businesses.
Prequalify your prospect. Few cold contacts end up converting into MQLs. Often, that's because they aren't a member of your target audience. Before you overinvest resources in an attempt to sell to leads who may never convert into paying customers, prequalify your prospects to determine if they meet your criteria as an MQL or SQL. Then, provide your qualified leads with collateral that can move them closer to purchase.
Assess drop offs. Visitors abandon the sales funnel at various stages of the process. When you identify where the leaks are and what their main causes are, then you can progressively decrease the number of visitors you lose and personalize your remarketing efforts to keep them in the sales funnel. 
Optimize your approach. On a regular basis, revisit your buyer personas, analytics, and all your marketing and sales enablement assets to improve the way in which you qualify leads, engage with them, and sell them on your products and services.
When you qualify leads at each stage of the customer journey, you can better allocate resources that are more likely to help that prospect move toward a positive purchasing decision. This ensures you provide them with marketing and messaging that speaks to their current appetite for your proposed solutions, making it easier for that customer to seamlessly transition from an MQL to an SQL and, finally, an opportunity won.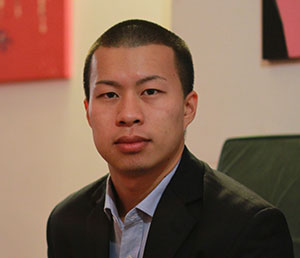 Embed this infographic onto your site:
Questions? We'll put you on the right path.
Ask about Salesforce products, pricing, implementation, or anything else. Our highly trained reps are standing by, ready to help.