Your Guide to App Development Software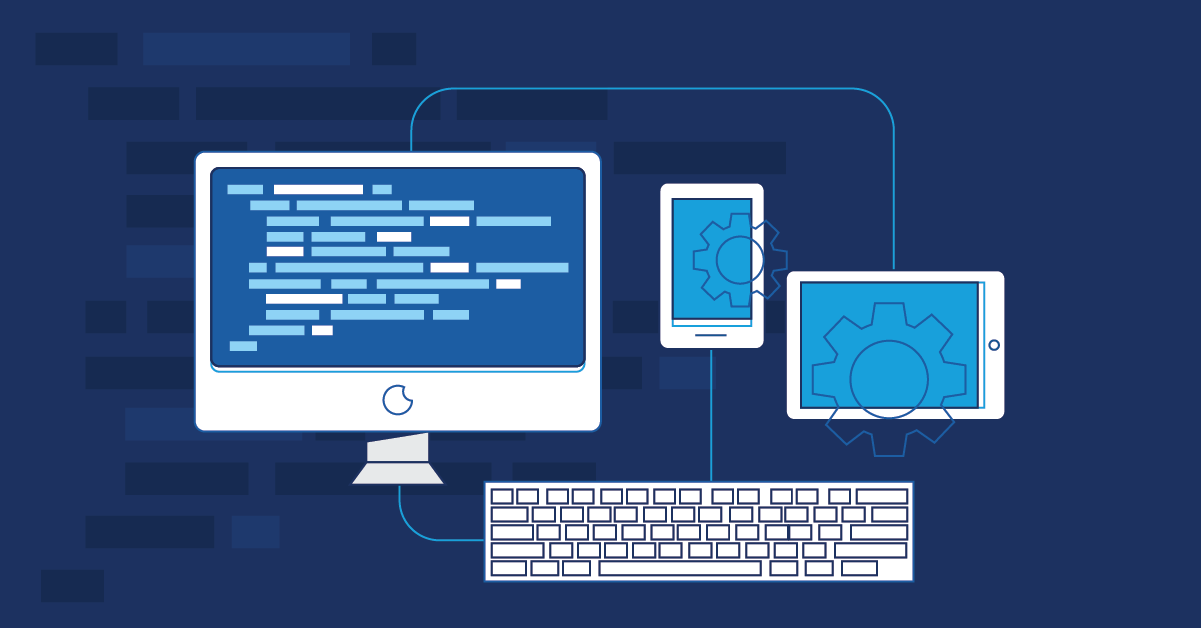 The thought of creating your own app may seem intimidating, particularly for non-technical professionals. Indeed, it's easy to look at the surface-level challenge and then defer development work to the experts. Even basic websites are often made of thousands of lines of code and it's understandable if you'd be wary of building an app from scratch. 
In recent years, however, a variety of app development tools have emerged, making it seamless for anyone to produce their own desktop, mobile, and web browser applications — in some cases, all without ever touching a line of code. This development is especially important for businesses that can now create programs that boost productivity, enhance the customer experience, and process copious amounts of data at lightning speed. Creating an app can now be done largely by using drag-and-drop tools. 
Within this article, we explore why companies should create their own apps, how app development software empowers organizations to produce exactly what they need without a programmer's support, and the advantages of low-code app production.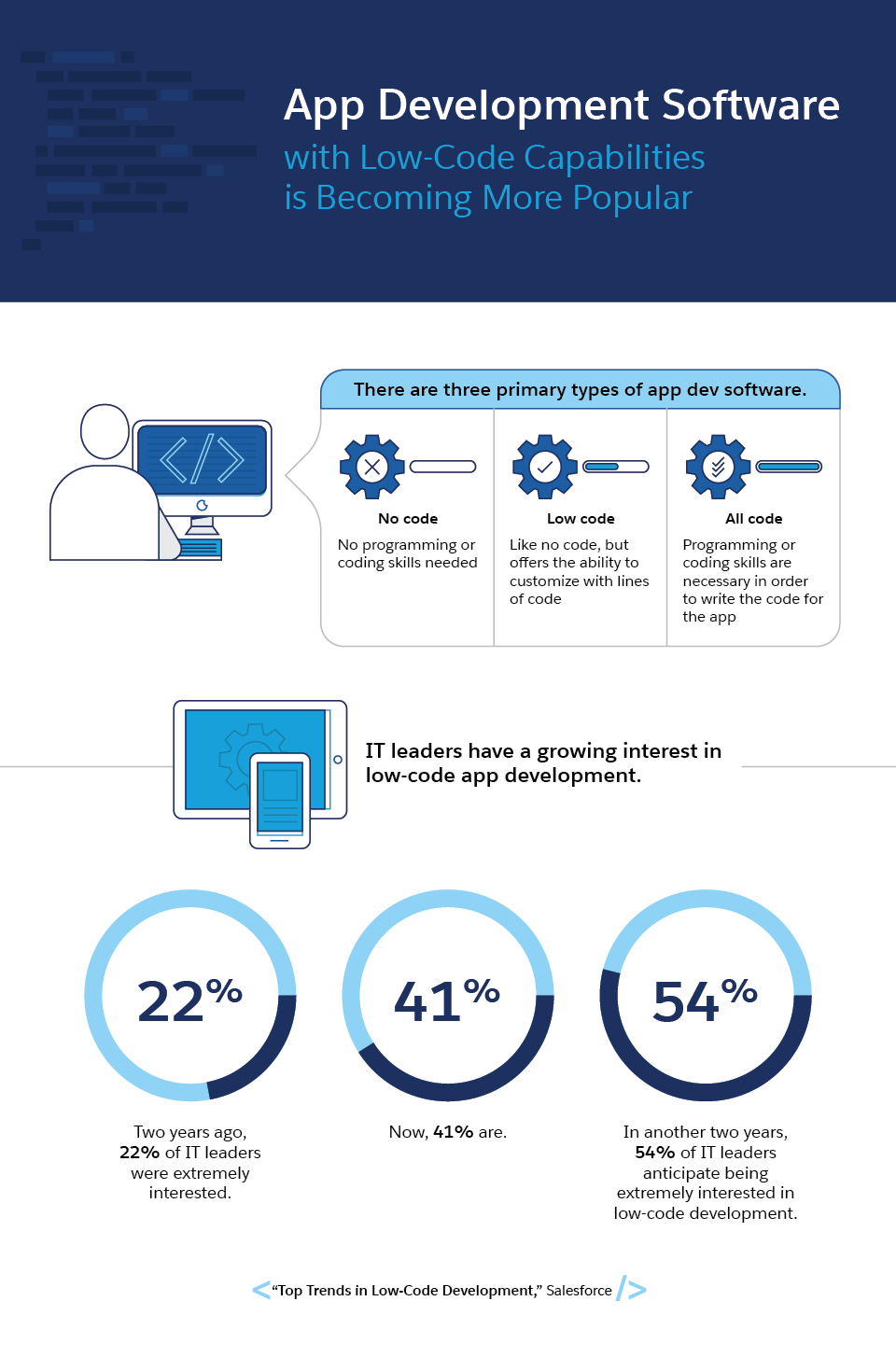 A Case for Internal App Development
A common association for the word "app" is an application that users typically download onto their Android or iOS smartphones. However, the word's range extends beyond mobile devices. An app can refer to programs compatible with smart devices, too, such as refrigerators, televisions, game consoles, and more. For many businesses, applications are more commonly used as desktop and web products that save their team money and time.
Increasingly, organizations are building their own apps using application development software that minimizes their reliance on expensive programming firms. This software allows companies to quickly test new app concepts with their target audience. 
Among companies, the apps they create can be customer-facing to help them capture more leads, convert more paying customers, and improve the way users interact with their brand. In some cases, too, the app itself can serve as a revenue channel if you offer its features to users for a small fee. 
Plus, when a team builds its own app, they can customize it in any number of ways to suit their customers' and organization's needs. A do-it-yourself approach may potentially save your company money that would otherwise go toward app development firms; these firms would likely continue to charge fees for bug fixes and routine maintenance. Instead, when you create your app internally using app development platforms, you can handle the hiccups and technical glitches yourself to minimize downtime and save on programming costs. 
How Low-Code Solutions Power a Do-It-Yourself Approach
Modern desktop, web, and mobile app development software enables individuals of all ages and with varying technical backgrounds to build their own apps — some basic apps can be created in just a few minutes. In fact, some app maker software can convert simple spreadsheets into live apps instantly as well. 
We live in an advanced technological age where we can conceive of an idea and, with little expertise, turn it into a working product or service on the same day. This is best illustrated when you further understand how app development tools normally work.

App creation software typically includes a number of prebuilt components and flows that power the back-end logic. This way you hardly have to worry about how to translate data inputs into responses the end user sees. You can even connect your app to existing systems, such as a CRM platform, to automatically sync the data that's collected across other parts of your business ecosystem, too. 
To style your app, many platforms offer a visual editor, drag-and-drop tools, and user interface templates to save you the hassle of designing the format and layout from scratch. Often, the only items you need to add are text, images, and videos. You can also customize the basic look and feel by selecting font styles and sizes, as well as color schemes. This functionality is known as no-code, in which no coding is necessary in the creation of the app. Some app development software offers a low-code option, too, which offers the ease of the drag-and-drop functionality with the ability to customize further with limited coding.
Generally, it's easy to create an app that can automate or streamline otherwise repetitive actions, thus returning valuable minutes back to hardworking employees. Now, more than ever, people can overcome any trepidation toward programming by circumventing it entirely to create applications without any real coding skills. 
App development solutions allow non-technical users to design usable, branded applications that plug into APIs and other available data sources for seamless integration with other tools. App creation platforms also facilitate usability testing and cross-device compatibility so that you can produce an app that functions as intended regardless of whether your end user views it on their desktop or smartphone. 
There are a number of high-quality, low-code app development platforms to choose from. Choose one that comes with premium upgrades for when your app evolves beyond its original scope use cases.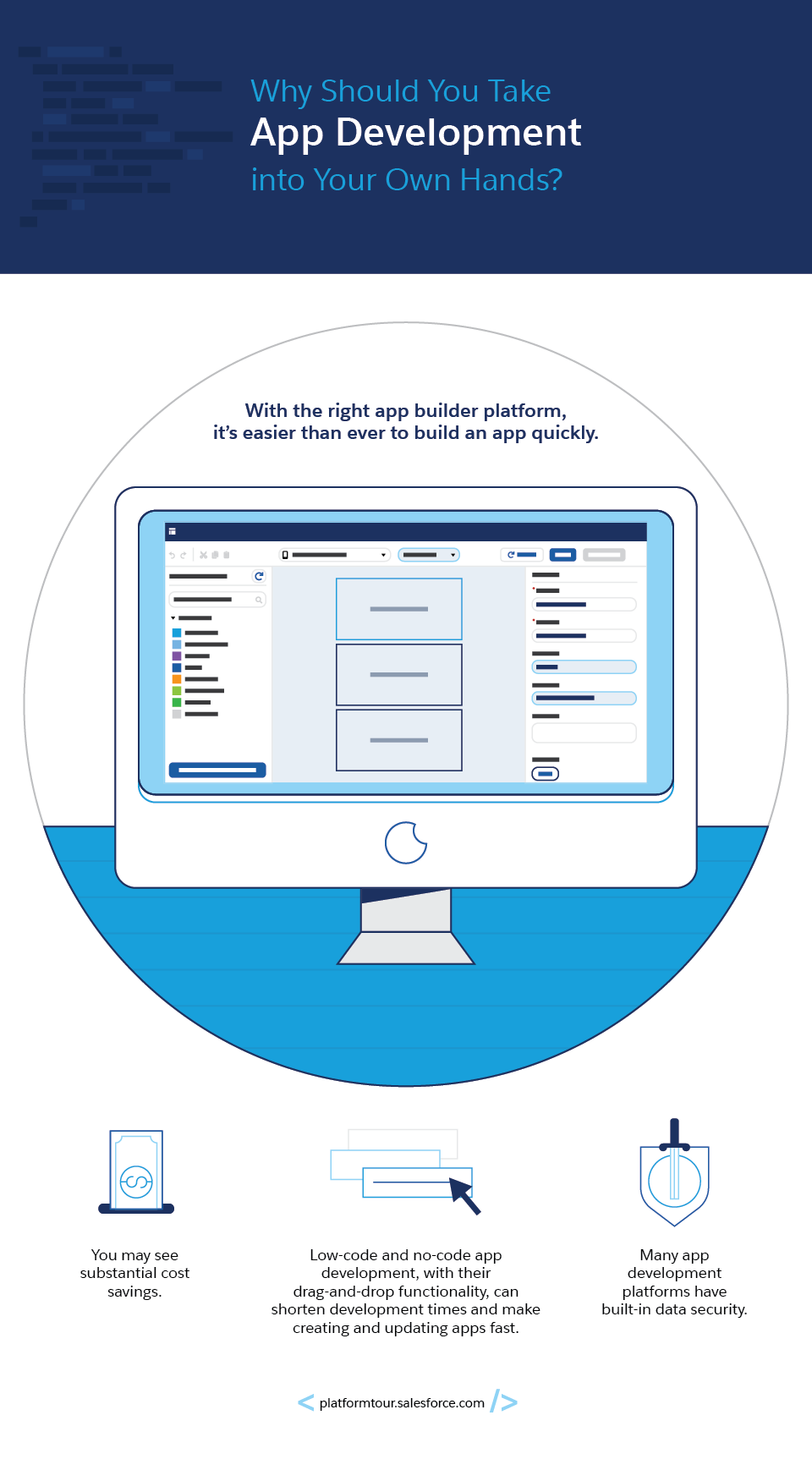 3 Reasons to Take App Development into Your Own Hands

To create a minimally viable application, businesses can skip the requests for proposals and go straight to creating apps in house. Just three of the biggest benefits for this homegrown approach are:
Cost savings. From start to finish, many mobile app development projects can cost $10,000 to $100,000 or more. Instead of sacrificing such a large portion of your budget to app development, employees can create lightweight versions of their ideal applications for far less in most cases. Doing so simply requires an eagerness to take advantage of app development tools. 
Data security. Process, protect, and store customer or user data confidently. App-building platforms often provide managed data services so you don't have to worry about the threat of hacks or the likelihood of a leak. This also ensures you're in compliance with regulations regarding the handling of sensitive user information. 
Rapid development times. Many app development tools make it easy to create a new app within minutes, whereas custom builds with a software agency can take months at a minimum. By cutting the development times and eliminating project management overhead, your in-house team can launch new applications that are easy to use and follow each week, while upgrading other existing apps they've built previously. 
App development software can allow employees to have more control over their development costs, customer data, and production timeline. 
Although the templated nature of app development platforms, by definition, may limit some of their capabilities, many users find there is actually more freedom when you build something yourself. Of course, while more complex apps will require custom code with low-code or all-code app building, communicating exactly what you need to external development partners is sometimes harder than doing it yourself. 
Through the use of app-making tools, many owners, with the help of a single experienced developer, can even inject custom code later to create the precise outcomes they're looking for, saving them the need to commission work from an entire outside agency. Overall, companies find that app development software is often exactly what they need for their immediate and growing needs. This is especially true for organizations that would fall behind if they had to wait six to nine months for their development partners to finalize their ideal app. 
Armed with an in-depth understanding of the benefits of app development software, it should be a no brainer for you and your organization to opt to create your own desktop, mobile, and web applications to power your business or provide better service to customers. You'll find that building your own suite of technical tools can actually be quite easy. As a result, you'll constantly look for ways in which you can develop new applications that would be a boon for your business.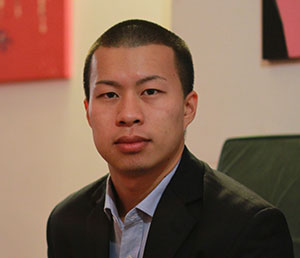 Share this Image On Your Site