Keep customers engaged wherever their adventures take them.
Boost returns on your investment in customer experience.
Personalize the shopping experience for every customer.
Shine brighter by responding to customers in real time.
Delight customers with engaging web and mobile apps.

"Our migration to Heroku has enabled us to more rapidly meet the changing needs of prospective patients and launch content updates at a quicker pace."

Kamal Bhandal, Director of Consumer Marketing for North America, Align Technology

See how Heroku and Lightning Platform together deliver a powerful customer experience.
Bring IT and developers together with common tools and dashboards.
Discover three ways to extend Salesforce with Heroku.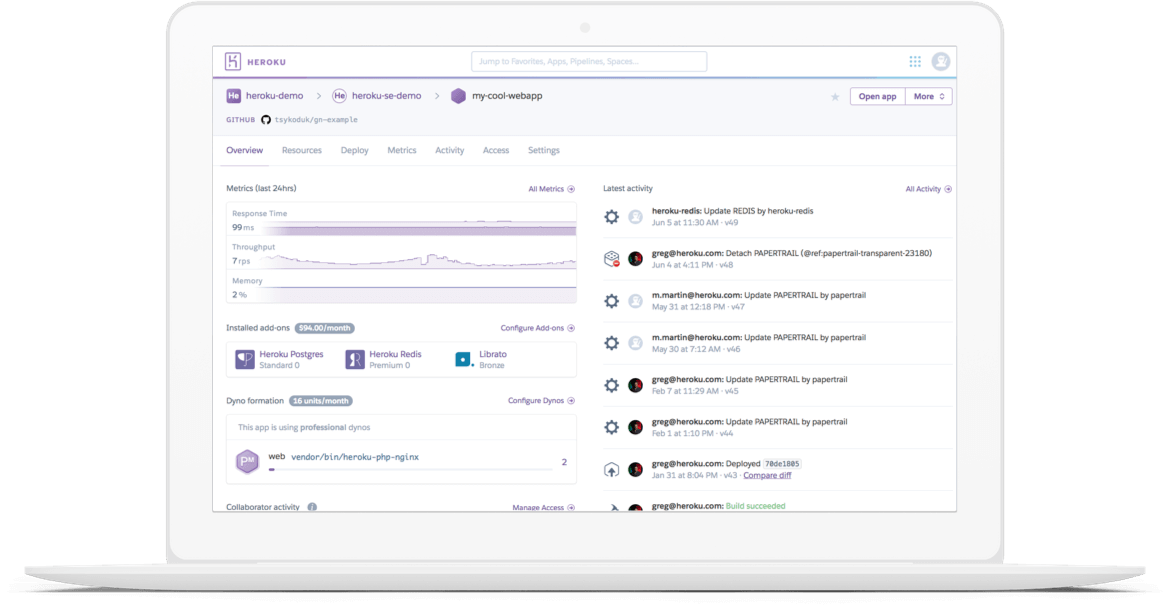 See why companies have built more than 9 million apps on Heroku.
The blazing fast Heroku platform handles more than 26 billion requests per day.
Choose from three quick-start options and begin building apps in no time.
Free
Ideal for experimenting with cloud applications in a limited resource environment.
Hobby
Perfect for small projects. Allows individuals to create and deploy basic apps.
(an application runtime container)
Starter Bundle
Launch apps, integrate Salesforce data, build with partner add-ons. Also includes enhanced visibility, performance, and availability.
Canadian pricing available upon request
Investing Involves Risk. Holdings and Performance are hypothetical. Listed investments currently available on Stash but not necessarily representative of all investments. All product and company names are trademarks™ or registered®trademarks of their respective holders. Use of them does not imply any affiliation with or endorsement by them. Information is for educational purpose only.