How To Analyze World Events To Guide Your Marketing Strategy
When the only constant is change, how can you make smart decisions for your organization? The answer is data. Here's a look at three key data insights driving CMO decision-making today, informed by the State of Marketing and other consumer research.
This post is part of our Moment Makers series, which takes a deep dive into how marketers use technology to build data-driven customer experiences that feel natural, relevant, and right on time.
What keeps a Chief Marketing Officer (CMO) up at night? That was one of the questions guiding our latest State of Marketing report. When collecting our research, the coronavirus was months away from global pandemic status. Yet, when the report launched in May, the takeaways were more relevant than ever. Because even though the world changed, marketing leaders faced the same core challenge: finding new ways to be helpful, stay relevant, and build long-lasting relationships with their customers.
Fortunately, CMOs are well-positioned to lead this charge. Seventy-nine percent of marketing leaders say they lead customer experience at their brands, up from 45% 18 months ago. So it stands to reason a CMO's priorities, budget, and use of team resources have the most immediate impact on the customer.
When the only constant is change, how can you make smart decisions for your organization? What can help you chart a course, move quickly, and create marketing moments that resonate with your customers? The answer is data. It's a trusted way to learn what customers want, benchmark against your industry and geographical peers, and uncover the trends shaping the future of marketing.
Here's a look at three key data insights driving CMO decision-making today, informed by the State of Marketing and other consumer research. They also inspired lively conversation among top CMOs at our first Marketing in Motion event.
CMO data insight: Don't ignore the impact of world events on your marketing strategy
The marketing profession has always been focused on communicating with customers in a way that's sensitive to their needs. What may not have been clear before 2020 is how quickly their needs can pivot in response to what's happening in the world.
Case in point: at the start of May, only 29% of French consumers said it was completely appropriate for brands to send them promotional offers. By the start of July, that sentiment was changing, with a 21% increase in French consumers saying it was completely appropriate. This may mirror the country's improved circumstances with the pandemic and subsequent easing of lockdown restrictions.
We need rapid-pulse data like this to understand the ebb and flow of consumer sentiment during fast-changing times. However, it doesn't have to completely upend your strategic priorities or multi-year marketing plan. Data can help us avoid appearing tone-deaf and execute our strategy in a way that acknowledges the realities of the present day.
For example: at the start of the year, our State of Marketing research found marketing leaders across all regions, industries, and business types globally listed their top two priorities as "innovating" and "engaging with customers in real time." Those don't have to change because of the pandemic. If anything, they're more relevant. But we should acknowledge our customers' current appetite for hearing from us and adapt accordingly.
So, if you were planning to launch a new podcast to connect with customers and buyers, and you plan to promote certain products or services as part of your programming, you might continue with the podcast but limit or even pause the number of promotional messages in a given episode.
Marketing is an art and a science, and data-driven decision-making is no exception. Especially when the long-term research and real-time pulse data appear to conflict. But there's room for both. In our podcast example, you can feel good about moving ahead with the launch knowing that globally, influencer marketing brings the highest return on investment lead generation. But you can plan your guest lineup, budget, and publishing schedule knowing that 59% of customers say the cadence of messages should be reduced.
CMO data insight: Budgets have to be just as agile as your strategy
Budgets mirror a CMO's priorities. And in a year like this one, it's important to balance long-term investments with your needs in the moment.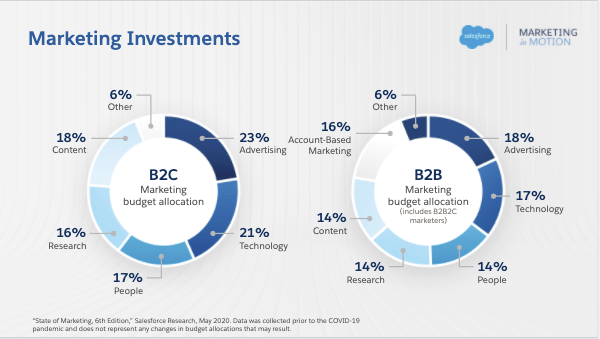 The data in the image above comes from our State of Marketing report. It reflects global marketing leaders' proportional allocations of marketing investments across key initiatives, split between B2B and B2C, before the pandemic. It's from this starting point CMOs are reevaluating marketing spend as the pandemic's impact on their region and industry start to crystallize.
For example, in June 2020, eMarketer forecasted that U.S. digital ad spend for the year will be essentially flat when, at the start of the year, they predicted a 17% increase. At the same time, the Interactive Advertising Bureau reported an expected 20% decline in U.S. television ad spend. For some lesser-impacted industries in the U.S., that could mean an approximate 20% overall reduction in ad investments for the year. This savings may be passed on to the business or, for some fortunate CMOs, be reallocated to programs that better equip you to face today's challenges head on.
CMOs are in the best position to reflect on real-time and strategic trends and make the best decisions for their money. Going back to our podcast example: if you divert some advertising dollars into the "content" bucket, you could boost innovation efforts by including more high-profile influencers from your industry to increase interest and ultimately drive new business.
CMO data insight: To mature your marketing strategy, upskill your talent
Your marketing toolbox isn't the only thing that needs budget attention. After all, programs and technology can only be as strategic as the people who lead them. Consider this: two of the top five challenges for marketing leaders globally are "creating cohesive customer journeys across channels and devices" and "sharing a unified view of customer data across business units." Do today's marketing teams have the skills they need to move the needle? Data says no. Because even though 69% of global marketing leaders say traditional marketing roles limit customer engagement, they also cited traditional marketing skills like "communication," "creativity," and "collaboration" as their teams' top strengths.
This disconnect is concerning even in the best of times; even more so in a crisis. Your brand's ability to overcome customer experience hurdles is directly tied to your team's ability to harness technology and manage information. Skills like "agility/adaptability," "data science," and "emotional intelligence" are critical to creating a unified customer view and building digital marketing experiences that resonate.
If you haven't already, consider allocating part of your budget toward your team's professional development in these critical areas. Your people — and your customers — will thank you.
Go deeper with data
These are just a few of the many data-driven insights that can help marketing leaders navigate uncertainty, lead through change, and build customer experiences that matter. Grow your knowledge by:
Marketing Cloud offers solutions for digital marketing, email marketing, social media marketing, customer journey mapping, marketing analytics, marketing automation, and B2B marketing to help you personalize customer communications across every digital touchpoint — from anywhere.