How to Develop a Knowledge Management System

Customer service as a business solution has significantly evolved over the past couple of years. A modern consumer is now involved in the process more than ever. They expect to find answers instantly, at any time, and from any device or location.
Admittedly, call center customer support often gets overloaded with requests. With a higher volume of calls, it's much more challenging to focus on providing stellar customer service and help resolve an issue as quickly as possible.
More often than not, your support specialists deal with the same questions and problems on a daily basis. If your goal is to help your customers and strengthen your brand credibility, a sound knowledge management system can make a difference.
Definition of a Knowledge Management System
Let's start with the basics. A knowledge management system is a platform or a resource section for creating, curating, storing, sharing, and managing product or service knowledge internally (within your team) or externally (with your customers) under one roof. 
Knowledge management systems come in different shapes and sizes, but you should be familiar with the following common types.
Frequently asked questions (FAQ) pages
Forums and online communities
Tutorials, guides, and how-to articles
Knowledge base
Reports and white papers
Success stories
Educational videos and webinars
The purpose of knowledge management is to nurture an informational environment, encourage research and support communication, and establish situational awareness in a way that's accessible to everyone interested. By giving the community access to the necessary information, knowledge management provides a natural way to harvest information and helps in making an informed decision.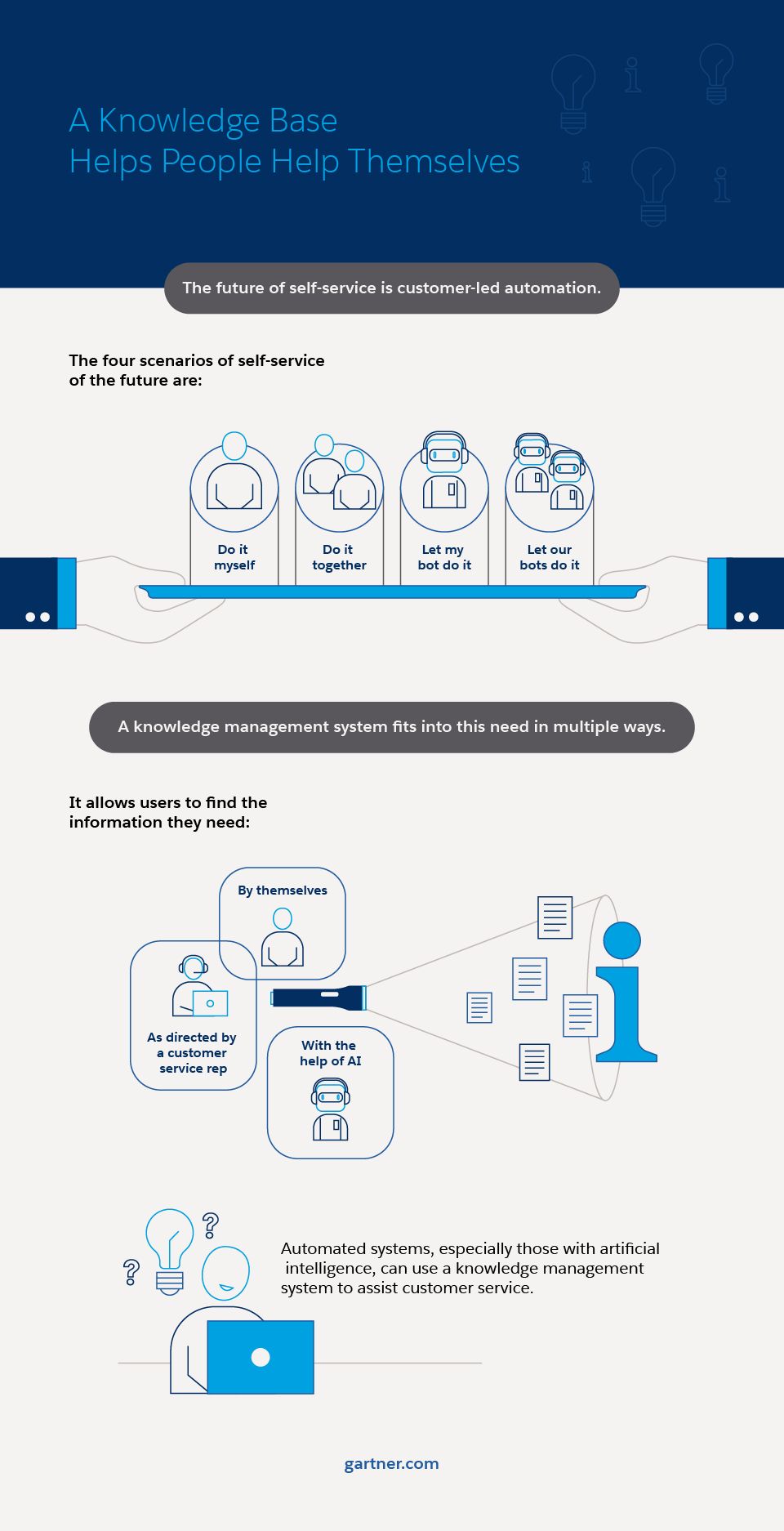 The Current State of Knowledge Management
Chatbots and self-service portals are on the rise. In a press release for Gartner, Anthony Mullen, a senior research director, states, "The trend of customers assigning their endless digital activities to their virtual personal assistants (VPAs), chatbots, and other self-service tools will grow over the next 10 years." According to the same release, "By 2030, a billion service tickets will be raised automatically by customer-owned bots."
One of the notable advantages of having a knowledge base, especially at companies that get swamped with support tickets, is the net promoter score (NPS) improvement. NPS is an indicator of customer satisfaction and how likely they are to recommend a product or service to someone else. Companies use it to gauge a customer's overall sentiment about a brand. It's not a surprise that this metric directly depends on customer satisfaction levels with your client success team.
Another benefit of setting up a knowledge management system is a significant decrease in expenses associated with the direct cost of processing tickets. In fact, the average cost of a support ticket in North America has been calculated as $15.56, with a maximum cost per ticket of $49.69. The cost per ticket is calculated by taking the total monthly operating expensive of a service desk and dividing that number by the monthly ticket volume.
It's also relatively costly when customer support representatives have to address every question that comes into the queue. Not only can chatbots save businesses billions in customer support by taking care of simple requests and speeding up response times, but they can also free reps so they can handle more challenging tasks. 
The advantages of implementing a knowledge base are multifaceted. A knowledge management system:
Helps significantly decrease the number of support tickets
Keeps all your documents, sales, and marketing materials in one place
Reduces wait times and allows both employees and clients to solve their problems faster and easier
Creates value and can be used to educate and train your employees
Dramatically increases customer satisfaction rate
In fact, by publishing educational articles and materials, your business can decrease the number of questions about customers' most common issues. Some companies opt to automatically redirect users to those pages before transferring them to the support team to see if the customer can't fix an issue themselves.

How to Get Started with a Knowledge Management System
To get your knowledge base off to a good start, begin with analyzing your current situation.
What kind of content already exists?
What documentation needs updating?
What type of materials would be the hardest to produce?
After that, you can investigate your competitors' progression of knowledge base development and what questions their users are asking.
There are two ways for you to approach the development of knowledge management. One involves internal data analysis, the other one relies on external research.
You can develop a knowledge management system by interviewing your customer support team about the most commonly asked questions they receive from coworkers and customers. Depending on the physical location of your team, whether on-site or remote, you can schedule a quick conference call. Alternatively, you can create a short online survey with open-ended questions, which will allow them to express themselves more fully. 
Also, take time to review the kind of support tickets you get the most. This will give you a good understanding of what your customers struggle with more often. For instance, those questions may be related to the shipping date after an order has been placed. Such a basic question can be eliminated from your customer service queue with a brief article that explains how long it takes to ship an order once the payment is processed.  
The same goes for topics about issuing a refund and your return policy in general. One of the greatest advantages of a knowledge management system is that it allows you to associate each case with a specific how-to article stored within your account. It saves you time, letting you work with prebuilt email templates containing links to those articles. On top of this, you can create a workflow rule that will send a customer an automatic email once your support specialist assigns it to a specific case type.
Second, to get a panoramic perspective of the situation, analyze what kind of questions users in your industry are asking on Reddit, Quora, and other social platforms. People turn to online communities for additional help, and you can leverage the potential that exists on those forums.  
There's no shortage of questions on those sites, and you can get to know your users better. For example, among Quora's most frequently asked questions about knowledge management systems are:
What is a knowledge management system?
What are the best knowledge management platforms?
What are the best success stories of companies that are using knowledge management systems?
How do companies benefit from having a knowledge management system?
As your third option, you can take a peek into your competitors' strategy. Everyone has a rival, and this rival might have implemented a tactic you're thinking of adopting. Do some research, browse around their website, and see how they structure, organize, and run their knowledge management system. 
For a much deeper dive into your users' behaviour, analyze their search queries on Google. What are they looking for? Users ask search engines about nearly everything that's on their minds, and you have an easy way of finding out what that conversation is about. Depending on the number of searches for each keyword, you can understand what kind of information your customers are interested in. 
Google Keyword Planner is a great tool that can assist you with this research. Start typing the keywords you found by adding "how" or "what" at the beginning of the phrase. For instance, here's what people are looking for when it comes to knowledge management systems.


In case your time is limited, or your team doesn't have that kind of knowhow, you can hire a consultant to complete this task for you. A consultant would typically guide you through the process and help you organize the results in ways that will allow you to use the information effectively.
When properly implemented, a knowledge management system can help your business strengthen brand loyalty, drastically lower customer support costs, and create value for your community.
The strategy behind getting started with knowledge management can differ from industry to industry. Yet its purpose remains unchanged: sharing knowledge with your customers and employees to create a better product experience and promote an informed decision-making process.
Whether you develop a detailed product FAQ or a manual, or create a full-fledged online learning center, the results will impress you. As long as you answer your users' questions and organize the accumulated content effectively, your efforts are worth it. There's no doubt that knowledge management is here to stay.

Alexandra Tachalova has worked in digital marketing for over six years. She is a digital marketing consultant, helping digital businesses to open new markets and boost sales. Alexandra is a frequent speaker, and Founder of online digital marketing event DigitalOlympus.net.
Share this Image On Your Site