Data-Driven Marketing: Defining Effective Marketing Teams | Salesforce

"Arguably, the most important evolution in the history of marketing is the ability to understand what data you have, what data you can get, how to organize and, ultimately, how to activate the data."
According to
advertising executive Mark Flaherty, data is the single most valuable marketing resource available. In fact, in a
survey of 162 U.S. business executives
, 64% strongly agreed that data-driven marketing is crucial to success in the global economy.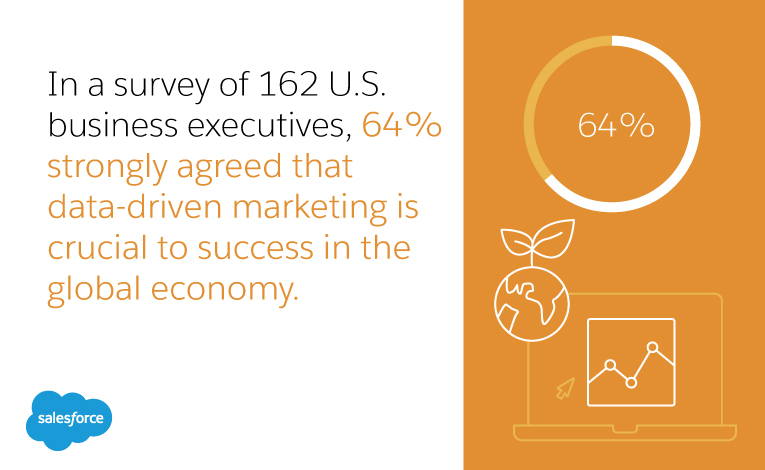 We live in a time when quantifying customer behavior is no longer an unattainable dream concept. It's a reality, and data driven marketing is the new norm.
So what is data driven marketing? And where does the data come from? The reason data driven marketing is so omnipresent, is that modern customer data can be drawn from almost anywhere — whether it be from social media habits, sales transactions, search data, or anything else. Thanks to modern technology, companies are able to understand their customers better than ever before.
More and more high performing marketing teams are leveraging this customer data to craft a full picture of their target consumer base. This allows them to create more focused campaigns, which naturally lead to better results. However, the benefits of data driven marketing go beyond simple content ideation. Through collecting and analyzing the right data, marketing teams are able to zone in on specific customer habits — such as where and when they use social media, or what kinds of deals they generally respond to — and use it to make sure that their product or service has the best possible chance of reaching them.
Why is Data Driven Marketing Useful?
To expand on this, it is worth knowing what  benefits data driven marketing can provide. Understanding this allows a marketing manager to accurately weigh up these benefits versus the cost of data analysis tools and CRM platforms.
First of all, it is important to note that the main benefit of data driven marketing is provided to the customer. When companies know their target audience, they are able to reach out to only those who would be interested in their products. This helps customers who are looking for a solution to a specific need, and also prevents marketing teams from wasting the time of those who aren't currently interested.

See the essential guide to second-party data
As such, data driven marketing naturally also prevents marketing teams from focusing their energies in the wrong places. Additionally, it provides much better insight into the customers who are interested, allowing for more effective marketing campaigns, targeted ads and emails, and a much higher conversion rate.
How Can a Business Better Incorporate Customer Data in Marketing Efforts?
Without a proper strategy, it can be difficult to properly incorporate customer data into your marketing efforts. On occasion, teams may find themselves with a heap of research and information, but not quite sure what to do with it. There is a difference between simply collecting customer data, and actively running a data driven marketing strategy.
Build better relationships.
The main benefit of data driven marketing is the ability to make and cultivate more mutually beneficial relationships. There are now CRM platforms like Marketing Cloud that utilize advanced analytics to collect customer data into one place, accessible from anywhere, by any department that needs it. This provides the opportunity for better relationships between departments as wells as with customers.
On the customer's end, it allows them to feel more connected with your brand, as they are able to interact from their chosen devices on any platform, and receive only the offers and communications that are relevant to them. On the company's end, communication is more effective, and the transfer down the pipeline becomes more efficient.
Meet customers where they are.
As mentioned, the cloud capabilities of these marketing platforms provide adaptability for any device or channel. The best data driven marketing takes advantage of customer data to let marketers find out which channels are the most effective or most preferred for their customers, and reach out to them this way.
Advanced analytics go further than simply indicating which channel is appropriate to reach your customers, however. They also provide the information necessary to inform marketers of when it is best to reach out to certain customers, the most effective offers to send them, and the right person to do so. To fully take advantage of these tools, top marketing teams should be using analytics data to meet their customers where and when they are most likely to be found.
Learn and adjust.
Marketing is constantly in flux — no effective team can take a "one size fits all" approach to marketing and call it good. In order for marketing to be data driven, you have to take on board all customer data and feedback, and use it to learn and adjust your efforts. When something is working, see how you can develop it, and when something is not working, look to see how you can alter it until you begin to see an improvement.
The best CRM tools can help you not only build better client relationships, but can also be turned inward to evaluate the effectiveness of your marketing efforts. Use these tools to help root out weak points in your business, so that you'll be more capable of using client data to provide a better marketing experience.

Capture, unify, and activate customer data without limits.
Keep it simple.
It can be easy to get swept up in the wave of data and analytics, various tools and methods, and exploring new processes. The important thing to remember is that old adage: Keep it simple. As more and more tools and processes emerge in the future, chances are that marketing is only going to get more complex. It's important to keep your team grounded and focused on the main goal: to increase awareness for your brand and boost your customer base. Do not add new technologies simply to add them; first make sure that you are aware of the impact and weigh up any benefits against any possible drawbacks. This is another area where cloud based platforms can really help to streamline things.
Leverage the right software to focus more on data driven marketing.
A common thread in these tips for achieving the best data driven marketing is the importance of using the right tools. This is why high performing
marketing teams are 2.8 times
more likely to substantially increase spending on marketing tools and technology. Furthermore, top teams are likely to use more than
twice the number of tools and technologies
that underperformers use.

Using data in marketing is important, but it is also important not to become swamped by it. CRM software can aid marketers who want to take advantage of customer data to improve their marketing strategy. Salesforce is the superior option in this regard, as it provides the opportunity to leverage customer data across all departments, providing a better, more efficient experience for marketers, and most importantly, for the customers as well.
Data may be the most valuable marketing resource you have, so don't let it slip through your fingers. Leverage the right software solutions, and see just how far data can drive your business.
Questions? We'll put you on the right path.
Ask about Salesforce products, pricing, implementation, or anything else. Our highly trained reps are standing by, ready to help.