Superior Pool, Spa & Leisure
"Our biggest sales reps are our field staff. It used to be that 80% of our leads came through telephone calls or web inquiries. Now, 90% come from our field staff."
– Craig Aris, President & CEO, LIV North, parent company of Superior Pool, Spa & Leisure

How Superior Pool, Spa & Leisure Used Salesforce as a Springboard for Transformation
When you think about swimming pool maintenance, you usually imagine a small mom-and-pop operation. But Superior Pool, Spa & Leisure has found a way to take that small business model and scale it. From modest beginnings in 1973, this Canadian company has grown to become a leader in recreation facility maintenance. Superior is responsible for over 200 indoor year-round swimming pools and recreation facilities plus lifeguard provision and management. In the summer months, that number swells to an additional 250 pools.
Not one to rest on its laurels, the company recently purchased the largest supplier of fitness equipment in Canada. So now, in addition to pools and spas, Superior maintains and supplies fitness equipment to universities, military bases, hospitals, specialty clubs, and professional sports teams. Successfully managing all this only increases the need for a scalable platform. And that's where Salesforce comes in.
"We're not saying we're a pool company anymore; we're saying we're a cloud platform to manage your aquatic facility or your recreation facility," said Mehdi Pahlavan, Chief Operating Officer at Superior. "We're leveraging Salesforce and Field Service Lightning when selling our products. We're packaging it differently for the customer and the prospects."
Superior hasn't gotten to this level without challenges. Until recently, invoicing wasn't standardized, so customers were expressing frustration with the lag time between work request, resolution, and billing. Rapid growth over the past few years has forced the leadership team to find innovative ways to handle platform integration, coordinate increasingly complex work orders, and manage seasonal staff fluctuations that just keep getting bigger.
"In the past, there were spreadsheets on top of spreadsheets, Microsoft Access databases, and Sage, in addition to other dispatching software that we had," said Pahlavan. "Too many people were involved in managing those software platforms, and there were a lot of things they were trying to keep track of in their heads. It just wasn't working."
To keep growing as a business, leaders at Superior knew they needed to find a way to tie everything together. They were looking for a solution that would optimize dispatching and scheduling, track customer service history, and enable fast case resolution. Superior considered Microsoft Dynamics, NetSuite, and Sage, but ultimately chose Salesforce to support continued growth.
"We needed to have one solution, one ecosystem that can support all of our needs, and be efficient enough that one or two people can manage the whole process," said Pahlavan. "After some testing, Salesforce became the obvious choice for us."
Superior integrated everything with Salesforce and transformed the way the company does business. Now when there's a new contract, the whole management process is streamlined with Salesforce. Service Cloud tracks work orders, manages renewals, and automates billing so employees stay sane and customers stay happy.
"A new paradigm has been created," said Craig Aris, President & CEO of LIV North, Superior's parent company. "In the past we had issues that would wait for weeks. Now if a case sits for more than a day, the employees start to get antsy because even one day seems like too much time. People feel personally responsible for taking care of those customers. It's the combination of the people and the Salesforce Platform that has made this work."
Creating Better Experiences
Using Salesforce ensures Superior's field technicians have the same knowledge as staff in the office. Field Service Lightning schedules regular maintenance in advance, freeing up managers and enabling more efficiency for technicians. There's no need for field technicians to call the office because they have all the information right on their mobile phone. They can get directions using the map in Field Service Lightning instead of using another GPS device. All of this saves time and allows the team to be more productive.
"When we hire new technicians, we can actually see the wow factor in their faces because they're comparing it to their previous experiences with field service," said Pahlavan.
Field Service Lightning also enables managers to schedule, quote, and dispatch field technicians. If supervisors have questions when responding to a maintenance call, they can open the Gantt chart or a map view to see if anyone is scheduled to be in a particular service area, making emergency dispatch easier. Salesforce is also fully integrated with Superior's payroll so managers can see whether or not a job was completed properly and ensure the technician is compensated accordingly.
"When I started out as a maintenance technician, there was a lot of paper, a lot of time spent trying to reach people in the field," said Amanda Beminster, Client Services Supervisor. "I find that Salesforce has helped out a great deal because it's very interactive and you can get responses and information in real time."
Because the new cloud-based system has inventory management and all the information field technicians need about facility assets, they can come prepared with the appropriate parts and equipment. Average resolution time has been shortened from two weeks to 1.6 days, allowing the company to offer 24-hour service. All this means happier customers and more engaged employees.
"We usually do about 130 calls a month on service and about 80% of them are resolved within 24 hours," said Pahlavan. "Our aim is to fix something on the first visit. That really gets customers' attention and they say, 'Okay, these guys are doing a great job.' As a result, we retain about 95% of our customers and our field techs seem happier at work, too."
Superior is also leveraging AI capabilities within Salesforce. The company's IT team created a program that reminds customers and prospects automatically when they haven't responded to an estimate after five days.
"We actually measured how many days we should wait," said Nabil Amini, Operations Manager. "Using Salesforce, we were able to test a variety of different follow-up periods to find which was optimal. We also tested different sender names for the email and noticed that certain names elicited a faster response. All this gives us a better closing ratio on the opportunities."
Increasing Agility and Flexibility
Superior has 50 full-time employees but in the summer months, the staff swells into the hundreds because of all the lifeguards that are needed. Having a platform that can scale to accommodate large fluctuations in staffing is critical.  
"Our business will grow by a factor of nine in the summer," said Aris. "We have to onboard 400 lifeguards, more maintenance techs — all of that has to fit within the confines of the system. The ability to scale that rapidly, the ability to utilize that base when the thing fluctuates wildly, that's almost unheard of."
Implementing Field Service Lightning alone has saved managers five hours per week. That time is now redirected to improving operations and growing the business.
"If you purchase a company and they have 10 employees, you have to bring those 10 people into your offices and that gets really complicated if you never had room for the growth," said Pahlavan. "With Salesforce, adding people is just so effortless. You just plug things in."
The business used to see an average of two new contracts per month but since Superior implemented Salesforce, that number has almost doubled to 3.5 per month. Response times have improved dramatically and outstanding service is now the norm.
"Our response rate to resolve cases — from the time we hear about them until the time they're closed — is only two days," said Aris. "I guarantee you, there is nobody in this industry doing it as fast as we are. The standard in our industry is six days for case resolution."
Using Salesforce also enables an expansion of roles and responsibilities for employees. Since everyone has access to the same up-to-date information, workers can more easily spot — and seize — opportunities, which enables hybrid roles to emerge. For example, with Field Service Lightning, field technicians are empowered to upsell and cross-sell, which is a huge boost to the sales staff — and the company's bottom line.
"Our biggest sales reps are our field staff," said Aris. "It used to be that 80% of our leads came through telephone calls or web inquiries. Now, 90% come from our field staff."
Living Like a Trailblazer
Since Superior implemented Salesforce, the company has seen an ROI of 157% within three years. After getting so many positive results from all the changes, the leadership team is unified in its belief that even greater success is possible using Salesforce. The company is looking at creating a new self-service knowledge base and online customer community powered by Community Cloud.
Superior faced challenges as a result of multiple legacy databases, outdated manual field service dispatching processes, and human resource management — all compounded by rapid growth. The company took a look at its options and blazed a new trail with the Salesforce Platform.
"It's so important to understand what a cultural shift has happened," said Aris. "It has produced a group of individuals who hate to lose. You couldn't want anything better inside an organization than a group of individuals who are absolutely, totally committed to customer satisfaction."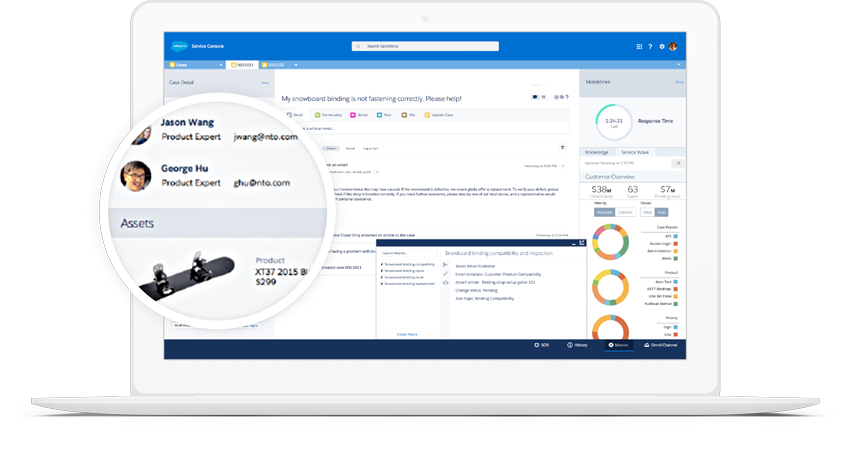 Questions? We'll put you on the right path.
Ask about Salesforce products, pricing, implementation, or anything else. Our knowledgeable reps are standing by, ready to help. Or check out our Pricing and Packaging Guide to learn more.