The marketing profession depends on reaching people and cultivating relationships. As such, marketing trends must always reflect — and even anticipate — current consumer needs. Today, those needs arrive in the form of consumers looking for more content across more devices. The average American now owns
7.2 internet-connected devices,
but for marketers, it can be difficult to stitch them together — which creates a limited view of their customers, and creates challenges for providing a single customer journey.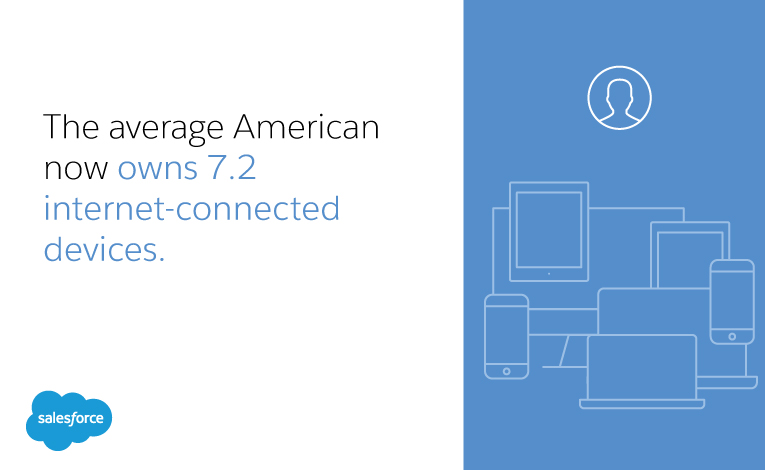 Artificial intelligence, or AI, is empowering marketing teams to process and act on customer data in a way that more effectively reaches the individual. By identifying all devices associated with the same person, and unifying data to track behaviors, AI is able to prepare marketing for the Internet of Things (IoT) era. The latest marketing trends reflect this, as evidenced in the fourth annual "State of Marketing" report from Salesforce Research. In the report — which surveyed 3,500 marketing leaders worldwide — 51% of marketing leaders say that they currently use AI in some capacity, with a further 27% planning to start using it over the next two years. While usage seems high for a technology type that's still in its infancy, AI has its roots in tactics like product recommendations and predictive lead scoring, which successful marketers have been using for years.
Interestingly, high-performing marketers are more than twice as likely as underperformers to say that they're currently using AI, with 72% reporting current use. If we can draw any conclusions from this correlation, it would suggest that AI is both the present and future for top marketing teams. But what specifically does AI mean for the future of marketing?
Of the marketers who already use AI, 64% say that it has greatly or substantially increased their overall marketing efficiency. While there are a lot of customer-facing benefits of AI, there are also many lesser-known benefits internally for marketing teams. For example, 59% of marketing leaders expect AI to have a substantial or transformational impact on their business in the following areas over the next five years: productivity of marketers, campaign analytics, digital asset management, and business insights across data and systems. Additionally, 57% say they expect the same transformational impact on lead scoring.
AI can boost the productivity of marketers by empowering them to channel their time more efficiently. For example, AI can provide smart social insights that allow marketers to connect and evolve messages across channels based on customer behavior, and provide automated, personalized customer journeys without a significant increase in manual work. In fact, by reducing time spent on segmenting customer and prospect bases for messaging, AI could actively save marketers time. With AI-driven lead scoring, marketers can also know which areas they should focus on more than others, and which will take more time than they are worth. If a CRM platform is used to access these kinds of marketing AI tools, it also streamlines marketers' jobs, as they can integrate channels and access everything they need to from a single platform.
As mentioned, a key value proposition of AI as it relates to marketing is the ability to create personalized, predictive 1-to-1 journeys for customers. Hyperpersonalization of content is a huge AI-driven marketing trend right now; 61% of marketing leaders expect AI to have a substantial or transformational impact on hyperpersonalization of content over the next five years. Similarly, AI can be leveraged to provide hyperpersonalized product recommendations for customers. Sixty percent of marketing leaders expect that AI will have a substantial or transformational impact on hyperpersonalized product recommendations over the next five years.

All of these are possible through AI-activated data based on a single view of the customer — something which
61% of IT leaders
say is a high priority over the next 12–18 months. In the marketing report, 57% of marketers using AI stated that it is absolutely or very essential in helping their company create 1-to-1 marketing across every touchpoint. AI empowers marketers with the tools to deliver the right message to the right person, automatically predicting the optimum time and best channel to reach them across any device.
All of this begs the question: Why are almost half of marketers still not using AI in any capacity? According to the "State of Marketing" research, there are a few roadblocks for marketing leaders seeking to execute an AI strategy. While several considerations are cited, there are a couple that were mentioned regardless of performance level. The three main roadblocks to executing an AI strategy, according to marketing leaders, are budgetary constraints, customer privacy concerns, and lack of the right internal skill set (for example, too few data scientists).
As marketing trends move further toward AI and hyperpersonalization, it is important to note that the best tools are not reserved solely for big companies with the greatest resources. Businesses have only begun to uncover AI's potential. In another 2017 survey of businesses, 79% of companies say they don't extensively use AI across the organization, as seen in this infographic. Through use of cloud platforms, an increasing number of marketing teams — with different size budgets and of varying performance levels — are able to use AI to provide a better experience for the customer.
To learn more about AI's impact on marketing trends, download the full "State of Marketing" report.
Ask about Salesforce products, pricing, implementation, or anything else. Our highly trained reps are standing by, ready to help.