How We've Made Salesforce a Great Place to Work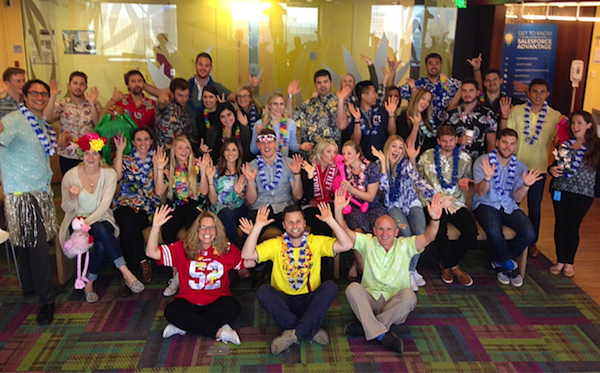 As the head of Employee Success for Salesforce, I'm proud of every single "Best Place to Work" award that our company receives. It's an honor to be among LinkedIn's Most InDemand companies, to earn a Glassdoor Employees' Choice Best Places to Work award, and to be included for the 8th year in a row on the Fortune 100 Best Companies to Work For list.
People ask me what Salesforce does to earn recognition as a "Best Place to Work", and my answer is always the same – we are INTENTIONAL about culture. If you think about it, most responsibilities and day-to-day activities of a particular job, such as a software engineer or an account executive, are the same no matter where you work. What's different is the people you do it with and the environment you do it in. That is culture, and that is the beating heart of your organization. At Salesforce, I'm fortunate to be part of a leadership team that is as intentional about the kind of culture we want to create as we are about the products we build, sell and service.
Want to create a "Best Place to Work?" I'm happy to to share our approach to building culture across the full employee journey.
Define your culture. Align on what your culture is and establish a simple story that everyone in the company can articulate. Salesforce builds its culture around the spirit of Ohana, which means "family" in Hawaiian. Ohana represents the idea that families – related or chosen – are bound together, and that members feel a sense of responsibility for one another. The Salesforce Ohana is our close-knit ecosystem of employees, customers, partners and communities. As members of the Ohana, it is our employees' personal responsibility to live our values – Trust, Customer Success, Innovation, Giving Back, Equality, Wellness, Transparency and Fun – and uphold our culture.
Hire for culture fit. When bringing new people into the company, elevate culture fit to be as important as education, experience, and skills. We train all of our recruiters and managers on our culture and what behaviors and attitudes drive our values and help people succeed here. For instance, we look for problem-solvers who think bigger to drive innovation, customer heroes that have an intense focus on delivering success, and people who are passionate about giving back to the causes they care about.
Immerse new people quickly. Encourage new hires to bring the best of what they learned at their last employer, and conversely, to let go of cultural habits that don't fit. Our immersive onboarding process helps new employees quickly feel like locals, understand how and why we do things here and feel responsible for keeping our culture strong. One unique thing we do is to have our new hires volunteer right from the start. New hires often tell us that our 1-1-1 integrated corporate philanthropy model is among the top reasons that they join, so we want to show them that we are serious about giving back, and walking the walk of all of our values from Day 1.

Live your culture inside and out. It's not enough to put values statements up on your conference room walls. You need to bring your values to life with communications, programs, and storytelling. You hear a lot about Salesforce's commitment to Trust, Innovation, Customer Success, Giving Back, and Equality in the media, so I want to share a few other examples of how we live some of our less public values every day:
Wellness: Our employees receive a monthly wellness reimbursement that they can use for whatever wellness means to them – gym memberships, yoga and dance classes, even massages. We also promote mindfulness at external events and inside our offices.

Transparency: Our unique V2MOM management model keep all our employees aligned and accountable, and gives each of us a clear vision of how we grow our company and our careers.

Fun: We are big on getting together to celebrate our success and to give back to the community. From team volunteer events to office tournaments to a yearly global Salesforce birthday party, there's always a reason to celebrate!
And, we encourage our employees to share their #SalesforceOhana moments with their networks and help us recruit more amazing people to the company.
We are always humbled by the recognition we receive for being a "Best Place to Work" and credit our amazing employees, who make this a great workplace. To each of them, we say a great big mahalo (thank you), for all they do to create an incredible environment for each other every day in our offices around the world.
If you think you would enjoy working with us, please consider joining our team. Check out our current openings at salesforce.com/careers.