How the Indiana Pacers Went From Brand-Driven to Fan-Driven, and Became a Digital Leader in Pro Sports
Over the last two years, Pacers Sports and Entertainment overhauled its technology and internal structure to serve its customers better. Learn how.
This post is part of a regular series called 360 Perspectives, featuring customers, partners, and experts unraveling the complexities of what it takes to change mindsets, connect silos, and put the customer at the center of their business.


For Pacers Sports and Entertainment, the organization behind the Indiana Pacers, Indiana Fever, and G League's Fort Wayne Mad Ants, each year presents entirely new challenges that are unique to pro sports. The allure of its schedule, player rosters, injuries, and macroeconomic factors means no two seasons, or fans, are the same. This is why the Pacers have re-aligned internal teams and invested in customer-facing technologies.
The organization's primary goal (aside from bringing home the Larry O'Brien trophy) is to become a digital leader in professional sports.
There is some urgency, as the Pacers, by their admission, were tech laggards. They were the second to the last NBA team to adopt customer relationship management (CRM). But over the last two years, it has completely overhauled its technology and internal structure to serve its customers better. The result is a more dynamic and personalized fan experience.
"When you do live events, you're not focused on increasing units or efficiency. It's all about the fan experience," says Todd Taylor, Senior Vice President, Chief Sales and Marketing Officer. "When fans come to a game, we can't guarantee a win, but we can make sure their experiences are as perfect for each individual fan as possible."
Here are the three critical steps the Pacers executed to achieve their goal, which can provide a blueprint for other organizations playing catch-up.
1. Hire people that can drive change
One of the biggest investments the Pacers have made in creating a more customer-centric organization (in addition to the technology enabling it) is building an engagement team stacked with project managers, developers, and other experts.
"There's no sense in having the fastest car if there's no one to drive it," Taylor says.
One of the drivers is Alana Galardo, Director of Customer Engagement, who devised a framework for the marketing team that helps them get more content created and pushed out to fans more efficiently via social media and email. Content creators focus solely on content capture and creation, and the "builders" are focused on packaging, personalizing, and pushing that content to the right fans.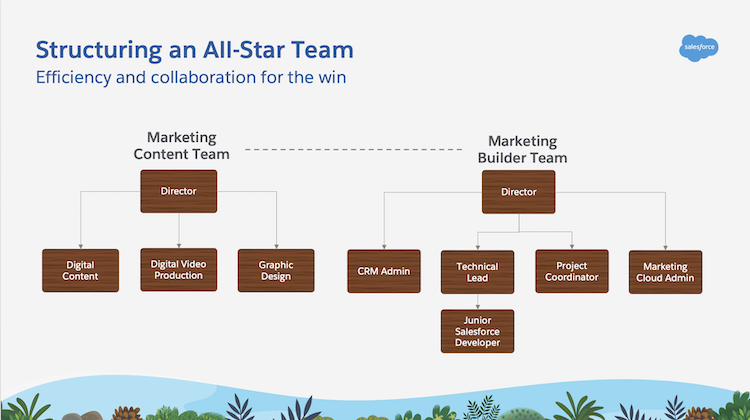 With the right team in place to help make it a reality, Pacers' efforts to personalize outreach have resulted in a 20% increase in email open rates.
Further, these teams have importantly invested in technology solutions that not only solve today's business problems but are flexible enough to solve unforeseen problems down the road.
"We don't know what our year is going to look like from one to the next," says Taylor. There are a variety of things that impact how we go to market, and that's why the tools you use have to be fluid and real-time."
Pro sports, he says, doesn't lend itself well to historical comparison — anyone familiar with the phrase "from worst to first" can attest to that — and is more about "the maximization of the here and now."
2. Customize for the masses
While it can't customize the game, the Pacers can customize engagement with fans and the way it goes to market. For example, rather than invest in one huge advertising campaign, promotional offer, or generic email as it has in the past, it is using data to tailor marketing messages to individual fans.
"We don't advertise like we used to because everyone who buys our product is different," he says. Based on data analysis, and alignment between customer engagement and digital social media teams, it can determine what content and platforms are resonating with fans for individual games, and is refining its messaging for greater effectiveness.
In short, the Pacers shifted the focus from marketing their brand to personalizing their outreach to individual fans, creating more relevant experiences and offers to help each fan engage with the brand in a more meaningful way. One of the ways they've done this is by using Mulesoft to pull in transactional data from Ticketmaster into Salesforce so its marketing team can tailor outreach based on sales and personas.
That's important when you consider the diversity of its fan base. Consider, for example, that a CEO may be more interested in a meet-and-greet cocktail reception with the coaching staff while a superfan wants free merchandise and discounted tickets.
"You may be a successful CEO, and I may be spending every dime I have in disposable income to have the same experience at the game, but that night has to mean something completely different to us."
The plan is to pull in more data sources, like retail, food and beverage purchases, to personalize in-game offers to fans via their mobile app. They hope to eventually get to a place where even the arena experience (music, etc.) reflects the fans in attendance. The Pacers hope to showcase some of these amazing enhancements when Indianapolis hosts the NBA All-Star game in 2021.
3. Take team members, especially late adopters, by the hand to show them what's possible
In theory, employees agree that having one set of customer data across the organization, and using new technology to act on it is a good thing. But in practice, legacy systems and processes often have to be pried from the hands of those for whom the stuff just works, creating inertia that hamstrings efforts to achieve important business goals.
"Salespeople, in particular, tend to be late adopters because they have systems that work for them, they've been using them for years, and they are very comfortable with that," says Taylor.
To address this issue, the Pacer's customer engagement team met quarterly with salespeople to demo services and capabilities and showcase how new technology can help them do their jobs better, service customers more efficiently, and hit their sales targets.
"If you can show them something that's going to benefit them, they will get there. But the data has to win them over," says Taylor.
To help salespeople deliver personalized messages, they began using Journey Builder to track metrics like time from a first sales call to close, offering specific guidance to narrow the gap, and started lead scoring with Einstein to drive sales momentum.
But here's what they didn't do – the Pacers did not immediately implement KPIs that keep its salespeople accountable. "We don't want them to be resistant to using technology, so we didn't introduce a lot of new measurement tools right away," says Taylor.
Rather, they methodically demonstrated how new systems could increase efficiency in the sales cycle and, again, offered guidance more akin to a benchmark for coaching. The Pacers also used Trailhead to train employees on the new tools.
All of this smoothed the introduction of new technology and increased its adoption.
Its next big project is to automate and integrate its cross-functional systems for even greater customer engagement, personalization, agility, and market responsiveness.
Doing so is "a huge challenge," says Taylor, but he'll tackle it by starting small, and sharing small wins with the rest of the organization.
That's how you become a digital leader in pro sports.
There are many approaches to customer centricity. Read this recent story featuring Edelman Financial Engines, which achieved its goals by reinventing its product development teams, and this one featuring Pilot Flying J, which overcame a digital deficit to focus on customer moments that matter.
For more on this series, check out the customer 360 playbook or subscribe to our blog newsletter to get series updates right to your inbox.