Lightning is the foundation of everything you do to extend and get more value from CRM. And now myLightning tools help everyone do even more to personalise apps and brand your employee mobile expereince. All with built-in trust and security from the world's #1 enterprise cloud platform.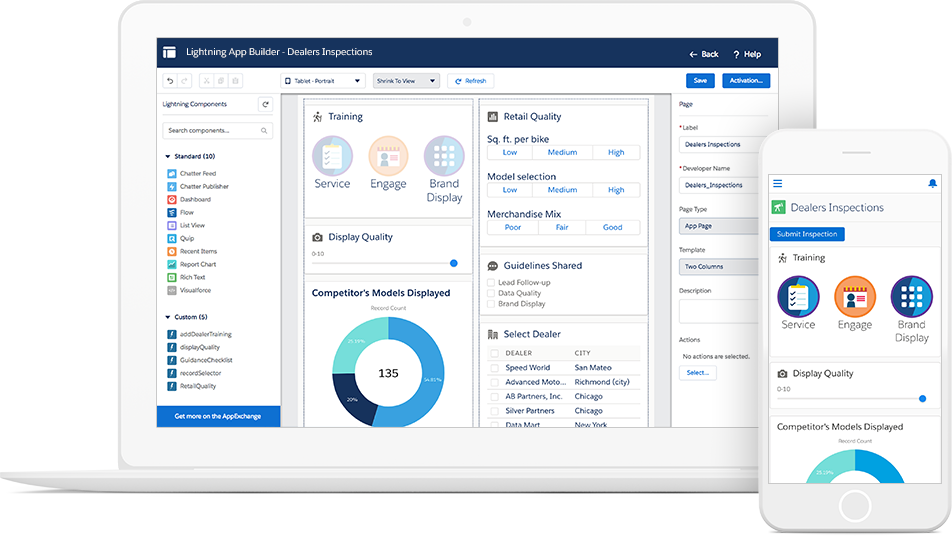 Instead of building applications from scratch, what if you could deploy a drag-and-drop library of easily configurable components? Lightning App Builder lets you easily assemble components into customised pages and responsive apps for any screen by simply dragging and dropping components onto the page and configuring the properties.
Lightning makes it easy to transform complex processes into apps. Drive productivity for every part of your business with Process Builder's point-and-click workflow and process tools.
Save dev time and create apps with a collection of design patterns, components, and UX best practices. Maintain consistency across releases by updating Design Tokens to roll out new styles — without manually updating code.
Quickly scale development with Lightning Components — reusable building blocks for apps that use standard web technologies such as HTML, CSS, and JavaScript. With client-side rendering, apps load faster and are ready for any screen.
"With Salesforce, we are in control of our own apps and our own destiny."
Salesforce is the world's most trusted enterprise cloud infrastructure. So every app you create with Lightning comes with org security, user security, programmatic security, trust, and visibility — standard.
Get a head start on app building with our metadata-driven architecture, APIs, integration, and connectivity services. Innovate for your business and let us worry about the infrastructure services you need to move fast.
Reduce point-to-point integrations with our event-driven messaging architecture that let apps communicate inside and outside of Salesforce. Bring in — and work with — data from any source to drive productivity and efficiency.
Get a closer look at the features trusted by more than 150,000 customers to build apps and deliver amazing customer experiences.