How to turn smartphone shoppers into buyers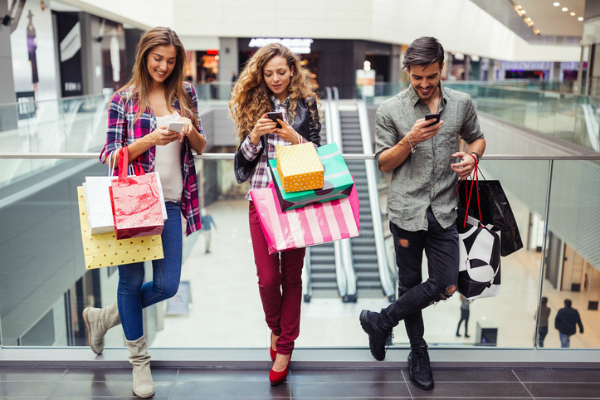 By the end of 2017, more than 60% of all digital traffic will come from mobile phones, and customers will place more orders on their phones than any other device. The smartphone shopper is becoming too powerful to ignore, the Empowered Shopper 2017 Report reveals.
Technology is continuing to revolutionise the retail industry. With their smartphones at the ready, customers are more connected and informed than ever before. Consequently, their expectations are sky-high.
Today's shoppers expect individualised experiences whether they're shopping on their couch, on the go or in a store. The cloud, mobile, and social revolutions have empowered today's shopper, transforming the relationship and challenging retailers to develop compelling and frictionless mobile experiences.
Yet, while Australia and New Zealand slightly over-index globally on retail traffic from a mobile device – a total of 55%, compared to the global average of 53% in Q1 of 2017, according to Salesforce's Shopping Index – conversion is still an issue. Globally, in 2016, only 25% of orders were placed on phones. Removing friction from the mobile purchasing process, and turning browsers into buyers, is now one of e-commerce's greatest challenges.
Mobile phone screens are the new retail battleground
At the moment, Australia has a relatively small slice of the e-commerce revenue pie, but it's set to increase 10% year-on-year, reaching US$14.151 billion by 2020. Connected mobile experiences that meet shopper expectations are critical for retailers securing a piece of this pie.
In Australia and New Zealand, 98% of Millennials, 89% of Gen Xers, and 78% of Baby Boomers own smartphones, and they're hungry for mobile shopping experiences. In 2016, shoppers created 70% more baskets on their mobile phones than they did in 2015. In the same period, computers and tablets only experienced a 3% rise. The mobile revolution is here. Those retailers who offer a smooth, clear and simple mobile checkout process will be best placed to convert the growing number of smartphone shoppers.
The behaviour of a smartphone shopper
While more than 90% of consumer commerce still happens in physical stores, more than half of that is influenced by digital touchpoints. Customers are often starting their shopping journey online, looking for inspiration and researching products. This could be through search engines, social media or a retailer's website or app directly.
This behaviour isn't surprising given people are never without their mobile phones. It's natural that they're using any spare moment in their day to expedite the shopping process. This could be conducting product research, checking prices, reading reviews, making an order, organising click and collect, checking in-store availability, and initiating support requests.
Globally, active shoppers make up 17% of mobile traffic to ecommerce sites, while buyers are only 2.3%. That's a lot of browsing time. Savvy retailers are capitalising on this online behaviour, making sure their products can be easily found via online search tools. For example, they're making search boxes on their sites larger, accessible on every page, and easy to use. Also key is providing shoppers the option to create wish lists or save their carts, or at the very least be able to email the cart to themselves.

What a great mobile shopping experience looks like
One of the key findings of the Empowered Shopper 2017 Report is that while customers are visiting retail sites more frequently on their mobile, they're spending less time per visit – down 9% from 2015 to 2016. Therefore, it's never been more critical to provide a mobile experience that's quick and easy.
The payment process, especially, has to be seamless. Difficulty completing a purchase in-store or online is one of the top reasons consumers will abandon their cart, and move on to another brand. Customers don't want to be filling in 16 different fields on their mobile in order to buy something. Proving this sentiment, retailers who offer native checkout and Apple Pay in native apps experience a 2–3x higher conversion than mobile web.
Yet, because technology is rapidly evolving, customer expectations are also changing all the time. So, a mobile site or app that worked impressively a few years ago will likely no longer cut it. Load times must be faster to capture shorter dwell times, and navigation should be regularly tested and optimised to offer the smoothest, most likely route to purchase.
Finally, shoppers are demanding a completely frictionless and consistent customer experience across channels. Retailers that stand head and shoulders above the crowd invest in an omni-channel approach that makes it easy to transact and deal with the brand across every touch point. Customers don't think of a business as a series of separate channels, so retailers need to stop thinking that way.
L'Oréal and Icebreaker: two retailers optimising the shopper journey
Global cosmetics giant L'Oreal has invested over the past few years in improving the customer journey and simplifying the path to purchase, across multiple channels and brands. There's a case study about L'Oreal's innovative approach in the Empowered Shopper 2017 report – which details how it has married ecommerce and consumer insight to reach new heights of customer experience.
Another retailer using technology to optimise the shopper conversion path is outdoor clothing company Icebreaker, serving up individual product recommendations – to both known and anonymous shoppers – across the entire shopping journey. Given consumers are spending shorter periods of time shopping on their mobile devices, personalisation is becoming key to fast-tracking conversion.
And the results speak volumes. Icebreaker has seen a 40% uplift in shoppers who clicked on their individual product recommendations, leading to 28% more revenue from recommended products and an 11% overall increase in average order value.
Customer experience is the ultimate differentiator
Over recent years, the traditional shopper funnel has truly expanded into a non-linear customer journey. There are so many points of interaction now, and customers can buy and collect information at almost every moment. Retailers need to map this journey, and identify where they can differentiate and add value to the customer. The retailers that will excel in the future are those that link different channels – physical and online – to create a truly compelling and personalised customer experience that the pure-play retailers aren't as effective at.
Learn more about how technology is evolving shopper behaviour, and what this means for retailers. Download the Empowered Shopper 2017 Report.
Join me at the Retail Connect event in Melbourne on 19 September to find out how you can blaze new trails to success and reimagine the way you engage with shoppers.

James Johnson is Regional Director Customer Success & Retail Practice at Salesforce. Read more from James Johnson.