The importance of personalisation in retail marketing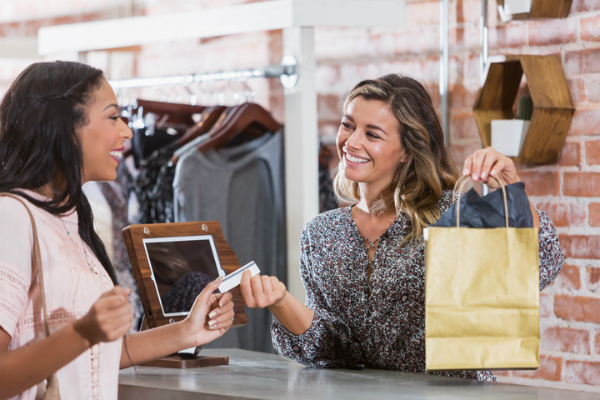 In a world of increasingly dynamic retail interactions, personalisation is key for marketers to connect with the omnichannel shopper.
Ask the average shopper what 'personalised' customer service means to them and they'll probably describe a face-to-face encounter like this:
"I walked into my favourite store and the shop assistant smiled at me, greeting me by name. They showed me a new product they knew I'd love, based on what I looked at and bought last time. I even got a discount because they consider me a loyal customer!"
At its core, personalisation is about customers being recognised as individuals, and treated in a way that makes them feel appreciated, unique and understood. The challenge for most retail businesses is replicating this kind of approach consistently and at scale across the mix of clicks and bricks channels frequented by customers.
A poll taken during the Shop.org Digital Summit global conference earlier this year showed just how difficult retail marketers are finding personalisation. The survey revealed that 46% of marketers do not personalise email subject lines, while 65% do not personalise email copy. Forty-nine per cent described their marketing efforts as 'one-size-fits-all', with many blaming data sources as the main culprit stopping personalisation. Yet, customers are increasingly empowered to expect personalised experiences everywhere, including marketing communications.
Connecting with shoppers in a faceless digital environment
Greeting shoppers with a friendly welcome may be one of the oldest strategies in the book. But now that technology is revolutionising the shopping experience, marketers need to be savvy about ways they can connect with customers beyond the shopfront.
Greeting your customers online may not be confined to your website and ecommerce portal, it could also be in other contextually-relevant destinations. For example, if your customers are visiting websites and viewing content related to the products and services you offer, your ads should be there. Marketing automation brings precision to managing campaigns in a more tactical way, making such activity achievable.
Same goes for social media. If your customers are chatting online about potentially making a purchase, contributing value to that conversation is a virtual way of putting your hand up to help.
Email is, of course, another digital connection method. Sending the right email at the right time can not only drive awareness for your brand but also incite an in-store or online visit. Drawing data from CRM or customer service tools becomes a powerful way to strengthen what marketing automation can do, creating seamless and relevant omnichannel marketing experiences for your customers.
Personalisation is not just confined to the digital world, it can also come to life in a physical retail environment. From the moment someone parks their car, you have an opportunity to use mobile messaging, such as SMS or push notifications, to signal you're here to help.
Beacons can also be embedded in physical environments to greet customers who go to specific areas of a store. US department store Macy's successfully employed beacons three years ago, offering discounts, rewards, recommendations and personalised deals to its customers via their smartphones. Not only is Macy's providing a more dynamic shopping experience, but it's a personalised one.

Curating content that educates, entertains and inspires
The best retail businesses leverage the channels their customers are frequenting, serving up content that educates, entertains or inspires customers. For example, if someone is browsing online for an item, marketing automation can be used to serve up related product reviews from independent sources.
If a customer is walking through a store and considering a product on the shelf, push notifications can be used, sending a link to a video showing the product in action. If customers ask friends on social media about a product they're researching, weave yourself into the dialogue with pointers to studies, helping them make a decision and building trust for your brand.
But personalisation needs to be just right
We've all been in stores where a shop assistant wouldn't leave us alone and, when you feel harassed, the natural impulse is to flee. That's true both in-store and online.
The data you gather from email opens, site visit activity, online ad performance and location data from beacons can ensure your marketing strikes the right balance between attentive and intrusive.
If you get personalisation right, the opportunities are undeniable. Sending a promotional code or discount via SMS while a customer visits a particular site or picks up an item in-store, for instance, may determine whether you make the sale or not. Sending an email with information on other products and services the customer might like based on their purchase history could be a lot more fruitful than a simple 'thanks for your business' message. Brands can also make use of social listening to pop up only when it feels natural to the customer.
In Q1 2017, overall digital commerce growth was 12% for the quarter globally and 21% in Australia, For the first time, this growth came from increased shopper spend. In previous quarters, the digital growth driver has been clear: traffic, and this shift was influenced by increases in both conversion rate (up 3%) and average order value (up 3% globally and 12.6% in Australia).
It's clear that before too long, the companies that experience real growth will be those that have mastered the use of leveraging each available marketing channel to drive not just traffic but loyalty, further increasing conversion rates and order value.
Want to provide the best omnichannel customer experience to technology-empowered shoppers? Download the Salesforce Empowered Shopper report 2017 to find out how L'Oreal, Tommy Bahama and Room & Board do it.