The future of CX: How artificial intelligence will humanise every customer journey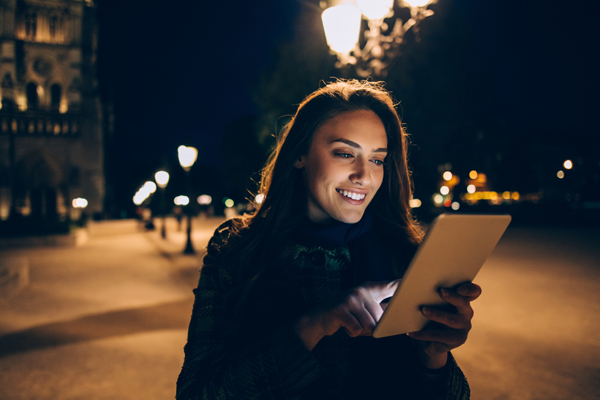 Artificial intelligence (AI) has the power to turn good customer experiences into great experiences.
Technology is growing in leaps and bounds, bringing a world of possibilities with it. And, as counterproductive as this sounds, developments in smart technologies are making the customer experience more human. When used strategically, technology can be used to amplify human characteristics, to personalise and improve customer interactions, making them 'more human'. Given the competitive environment we're in, creating these hyper-human experiences is more important for businesses than ever before.
So what makes a good customer experience a great customer experience?
There are three key differences between a good customer experience and a great one: empathy, serendipity and privacy.
The capacity to understand or feel what another person is experiencing from within their frame of reference lifts CX from good to great. The individual customer is understood and met with an experience that not only fulfils their immediate needs, but their emotional needs as well.
The value of serendipity – the ability to surprise and delight – is another marker of a great experience. The new battleground emerging around the future of customer experience is how you make your customers feel, think and act. While customers may not remember what you showed them or offered, they will remember how you made them feel.
A great experience respects privacy – and not just from a data perspective. We live in a crazy, busy world – people are overwhelmed with information, notifications and interactions. Great experiences are founded on knowing when to connect with customers and, more importantly, when not to connect. Customers need to feel supported, encouraged and enlightened, but never overwhelmed.
The challenge to integrating technology into customer experience without losing these advantages is that empathy, serendipity and privacy are native traits of humanity, but not of traditional technology.

How to take the best of humanity, and amplify experiences through artificial intelligence
Emotion is the future of customer experience, and AI is an enabler to understanding and influencing human emotion. With every customer journey comprising multiple, connected experiences, AI is no longer just a tool for companies to add to their services. It is the foundation for companies that want to create a different business model, understand data in real time, and transform every customer experience into one that demonstrates empathy, provides serendipity and respects privacy.
AI can help organisations understand what customers want, and predict what they will need in the future. It can help companies unlock customers desires, and tie together a seamless experience with one that is relevant to customers. Most importantly, it can help organisations:
1. Create intimate experiences
We all leave digital breadcrumbs every day across the websites we use, in the places we visit and in the photos we post. Data is captured in each interaction and provides a window into our lives.
AI enables us to collect and analyse those breadcrumbs to learn more about our customers: what they want, how they like to be served, and the words and images that evoke emotion and trigger them to act. The new world is not just about delivering good customer service, but about evoking emotion to make them love brands and inspire them to tell the world about it.
Handbag designer Rebecca Minkoff collects those digital breadcrumbs – from a customer's favourite drink to the products they've viewed online and bookmarked for later. This data is used to create a personalised experience when a customer walks into the store; beacons are used to notify arrival and clothing items are delivered to the change room. Even the mirror provides access to a catalogue of clothing options to mix and match, and the ability to order different sizes, creating a truly personalised and memorable retail experience.
2. Explore new channels
AI makes channels such as smart vehicles and augmented reality not just cool technology, but valuable platforms to serve and sell to customers. Your car will talk to the fridge to make predictions on groceries you need, and will purchase them for you on the way home from work. Augmented reality puts information in the hands of the customer or employee, so that they can make more informed decisions and take the best action in that moment.
For instance, Sephora has launched a digital mirror to allow customers to virtually try on makeup, making recommendations based on skin type and facial features, and removing the friction of purchase when they find the look they love.
3. Deliver equality in service
Previously, there was concern that AI could inadvertently amplify inequality – as predictions and recommendations are based on algorithms that look for common trends and patterns in data. However, we have moved into a new phase with AI and equality, and more technology is being used to turn the tables and provide greater equality in service.
A great example is Soul Machines, the creators of highly detailed 'Digital Humans' with personality and character. Soul Machines worked with the National Disability Insurance Agency in Australia to address the challenges faced by people with disabilities in communicating and engaging with the agency.
In many cases, forms and websites are not accessible, and letters are written in convoluted language. Combining a human face and voice with AI, in a system co-designed by the disability community, has made information available to people in a more accessible and personalised way. It's also removed difficulties in using standard government communication methods.
According to Forrester's 2017 Prediction Report, there will be a clear correlation between the quality of customer experiences and revenue growth for companies. Emotion is fast becoming the new battleground, and a core driver of customer loyalty and consumer spending.
Companies that can successfully use AI to drive better experiences at each interaction in the customer journey will find themselves winning the hearts and minds of their customers. By using technology to demonstrate empathy, provide serendipity and respect privacy, these companies will create customer service experiences that are more human than ever before.
See Katrina Read and Soul Machines' Shaun Paga at Salesforce Basecamp in Melbourne on 27 September 2017. Register for free today to secure your spot.