Why you need to attend Salesforce Basecamp Auckland 2017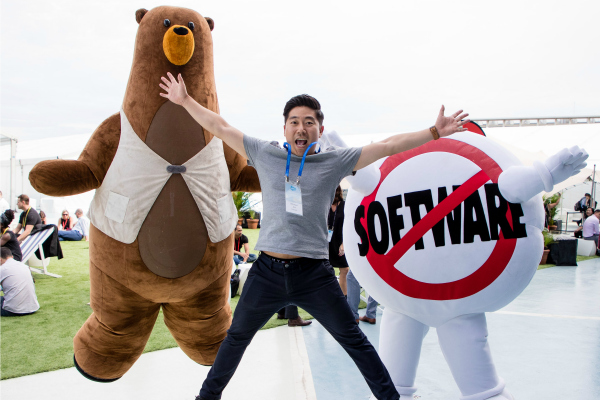 If you're yet to register for Salesforce Basecamp, here's why you need to get on board.
On Thursday 31 August 2017, the SKYCITY Auckland Convention Centre will be packed with people like you. People who want to be their best, and connect with their customers in a whole new way.
Are you ready to blaze a trail to customer success?
Salesforce Basecamp is packed with the inspiration, education and technology you need to accelerate your trail to customer success. Plus, it's free to register.
Hear from a stellar line-up of industry experts, trailblazers and innovators, discussing everything from ways companies use innovative technologies to connect with customers, to how artificial intelligence (AI) is humanising the customer journey.
Plus, discover the power of the Customer Success Platform – the world's smartest CRM – and learn how the cutting-edge technology is helping Salesforce customers work smarter, be more productive, and create powerful, individual customer experiences that drive loyalty and growth.
Salesforce Basecamp is a complete learning experience. You'll have access to keynote speakers, break-out sessions that explore topics in-depth, and the opportunity to network with peers, and share ideas. In between sessions, explore the Customer Success Expo, where you'll discover new products and solutions, plus Salesforce experts can help you solve specific business challenges.
With tailored content specific to your industry, here's a closer look at what you'll learn:
Sales: Learn new ways to transform leads into cash
In today's competitive marketplace, sales professionals need to connect with customers in new ways, develop deeper relationships and close deals from anywhere at a moment's notice.
At Basecamp, you'll hear from industry leaders, Salesforce customers and special guests about how technology can help sales reps sell smarter and faster, turning prospects into advocates. Learn how others are driving maximum sales productivity, and the best practices you can use to maintain your sales edge.

Customer service: Excel at personalised service
The current tech climate has created super-connected, hyper-informed customers, and this constant connectivity puts a new set of expectations on service teams. Customers want to feel immediately understood, individually valued and consistently recognised, no matter the channel of engagement.
Join Salesforce customers to learn how you can deliver service for today's mobile-first world.
Marketing: Create 1-to-1 customer journeys
At Basecamp, learn about the key trends impacting marketers globally, such as the evolution of customer journey strategies, the explosion of channels, and how marketers are leveraging emerging technologies like AI. Plus, discover how to create more valuable brand experiences with data, learn more about Salesforce's account-based marketing solution, and see how the most innovative companies are creating seamless 1-to-1 customer journeys.
Small business: Your playbook for growth
Small businesses are nimble and can quickly adapt to the changing expectations of their customers. But businesses need a strong foundation for growth, and technology that scales beyond spreadsheets, manual processes and disparate solutions.
Hear from small business trailblazers about how they're using Salesforce to solve the challenges they face today, while preparing for the success and growth they expect tomorrow.
IT: Prepare for innovation
IT professionals are navigating historic change driven by new customer expectations. Business units, including sales, customer service and marketing – tasked with creating new experiences that meet elevated customer expectations – are changing their views to see IT as a strategic business partner.
Learn how to prepare for the expectations of innovation and AI, while balancing the everyday demands of your role.
No matter what industry, you'll learn how to innovate, grow, and transform your business. Register for Salesforce Basecamp today.