The Road to Dreamforce 2017: What's in store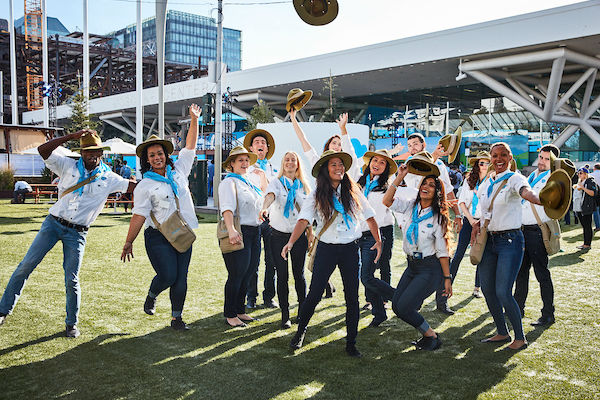 The countdown is on for Dreamforce 2017 – the biggest tech conference in the world. Before you know it, we'll be running zig zags around San Francisco, with our comfortable shoes, awesome new Dreamforce backpacks, and minds brimming with inspiration. Are you ready?
To help you prepare for the whirlwind of Dreamforce, we recently aired the second live episode in The Road to Dreamforce web series. Our Dreamforce Program Manager, Marissa Kraines, invited Michael Peachey (Dreamforce Conference Chair), Kurt Smith (Dreamforce Agenda Builder) and Stacey Kashubeck (Director of Strategic Events) into the Salesforce Studio to answer everyone's burning Dreamforce questions and share the latest agenda updates.
If you missed the episode, we have all the highlights for you:
Salesforce Einstein, one year on
At Dreamforce 2016, we launched Salesforce Einstein – a layer of artificial intelligence (AI) capabilities embedded across the Salesforce platform. This year, we'll be sharing some exciting new AI innovations. Just like last year, Einstein will be everywhere at Dreamforce – including in the dedicated Einstein Observatory – giving you every opportunity to learn how Einstein can help make you and your business smarter.
Not-for-profits and tech work hand in hand
Not only is Dreamforce the world's biggest tech conference, it's also the world's largest tech conference for not-for-profits, with more than 3000 non-profit attendees converging on San Francisco for the four-day event. For those who attend, it's an opportunity to be inspired by how technology can expand a not-for-profit's impact and propel its mission.
Plenty in-store for SMB trailblazers
If you're an entrepreneur, start-up manager or trailblazer at a growing business, Dreamforce has something for you. In this video, Marie Rosencrans, SVP of small and medium business marketing at Salesforce, shares her tips for maximising your Dreamforce experience and provides the inside scoop on what's in store for SMBs at the conference.
This is just the tip of the iceberg of what's in-store for you at Dreamforce 2017 – find out more. And, if you haven't yet convinced th boss to let you go, here's some tips to help you present a compelling argument.