4 ways to create a happy customer service culture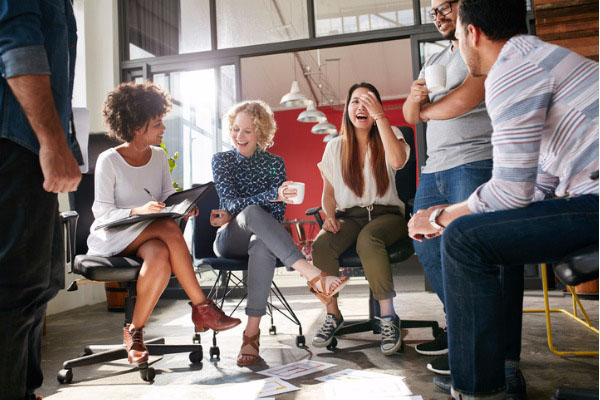 With more than half of all customers willing to pay more for a guaranteed good customer experience, it's more important than ever to ensure employees on the frontline provide exceptional service. So, what's the cornerstone of a great customer service experience? Engaged, empowered and happy customer service reps.
While customer experience might be the new business battleground, the employee experience is equally important. The two are interconnected. In the latest State of Service report, two-thirds of customer service professionals agree that agent satisfaction has a significant impact on the bottom line.
The benefits of breeding a happy customer service team don't stop there. Higher job satisfaction also contributes to improved employee retention rates and increased customer referrals.
Here are four ways you can increase job satisfaction and overall happiness among your customer service reps.
1. Open lines of communication
When there's good workplace communication, employees are more likely to stay in a job, speak up and trust their employer. Gallup found that companies who have regular, daily interactions between managers and employees are three times as likely to have more engaged employees. Even if those interactions aren't in-person, but via phone or video link.
Open lines of communication cultivate stronger feelings of support and transparency. In turn, employees are happier, more connected with their work and colleagues, and more likely to provide a better experience to customers.
2. The right tools and technology
Having the right tools and technology underpins a service team's ability to provide a great customer experience. If customer service reps are battling old computers and outdated systems, it's not only going to impact the customer experience, but also how happy the employee is about coming to work everyday.
Furthermore, for customer service reps to be able to meet the changing expectations of customers, they need to have a 360-degree view of each customer. This view needs to be connected across service channels – whether it's email, social media, phone, live chat, etc. – and also with other areas of the business, such as sales. Plus, agents need to have access to the right tools to enable a smarter level of high-touch, personalised service.
Eighty-six per cent of the best performing customer service teams are indeed empowered with the right tools and technology that enable them to effectively and quickly utilise customer and product information to solve customer issues. This is compared to 49% of underperforming teams.

3. On-demand training
Just as important in creating empowered, happy customer service reps is providing on-demand training to further develop their skills and set them up for ongoing success. This is particularly important as tools and technology change, and customer expectations evolve. Agents need to be equipped with the skills and resources to confidently manage all service situations.
While customer service onboarding should cover common scenarios and how to handle them, regular and ongoing training should be prioritised to make sure employees stay up-to-date with the best tactics to increase customer satisfaction. This training can take place in the form of team workshops, online learning or attending conferences.
The Council for Adult and Experiential Learning (CAEL) reports that when businesses offer continuing education, employees feel like their employers are invested in them. This can lead to higher retention rates, lower cases of absenteeism and increased productivity.
4. Autonomy is key to agent empowerment
If employees are given the independence to make decisions based on their best judgment and what's best for the customer (and the company), it can have a direct impact on their happiness levels, and that of customers. This leads to a higher feeling of trust between customer service reps and the business.
Greater autonomy and decision-making power can also improve service response times, making customers feel more valued, and be more likely to trust the business and provide referrals.
By focusing on increasing the job satisfaction among your customer service reps – through better tools, training, communication and autonomy – you're not only investing in the happiness of your employees, but also your customers.
Find out what 2,600 customer service professionals from around the world are identifying as the biggest shifts impacting the service industry. Download the State of Service report.