Dreamforce 2017: All the highlights from day one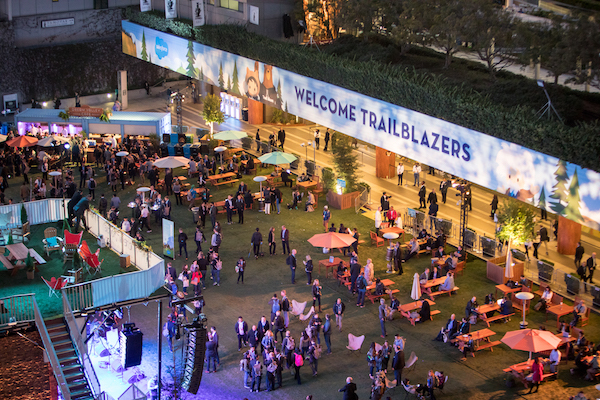 The first day of Dreamforce 2017 wrapped up on Monday in San Francisco, and what a day it was! The largest gathering of Trailblazers from around the world were treated to a high-energy day of learning, inspiration and fun. Here's the top four moments.
1. Marc Benioff's opening keynote: Customer success in the Fourth Industrial Revolution
Dreamforce's opening keynote by Salesforce Chairman and CEO, Marc Benioff, is always highly anticipated, and this year didn't disappoint. We heard from incredible Trailblazers like Stephanie Herrera, who blazed a trail from the cotton fields in West Texas to a career as a Director of Technology and Salesforce MVP. Herrera now shares her passion for Salesforce with others, as the founder of Salesforce Saturday – a meet-up with other Salesforce Admins and users to hone their skills and share best practices.
Benioff was also joined on the keynote stage by adidas, 21st Century Fox and Girl Scouts, who shared how Salesforce is enabling them to connect to their customers in a whole new way.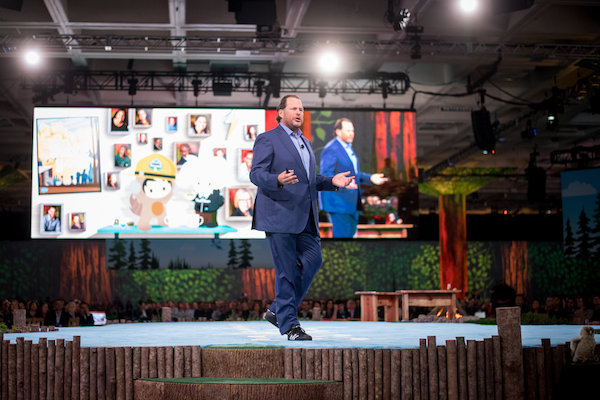 The keynote was also full of exciting announcements, including a brand new partnership with Google that will enable smarter, more collaborative experiences. You'll now be able to surface powerful customer intelligence easily between G Suite, which is already being used by more than 3.5 million businesses globally, and Salesforce Lightning and Quip, which are redefining CRM for the Fortune 500. And with the Salesforce integration with Google Analytics 360, the first time Google Analytics has integrated with a third party, customers will have incredible insights to deliver the most relevant experience at the right moment.
Watch Marc Benioff's opening keynote on Salesforce Live.
2. Ashton Kutcher discusses using technology innovation as a force for good
While it's only the first day, Ashton Kutcher's talk is likely to be one of the most emotional and inspiring hours of the entire week. Kutcher discussed what prompted him to co-found Thorn, which partners across several industries to fight trafficking and the exploitation of children through the power of technology. Kutcher cited Bono's crusade to end AIDS as one of the primary inspirations behind his decision to "put down the phone and be the person who steps in to help".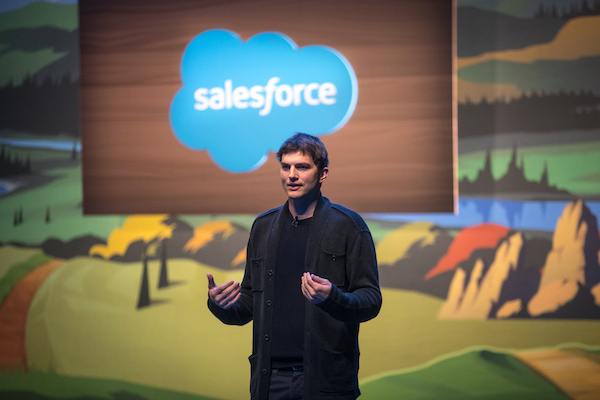 If you missed this incredible discussion, catch up on Salesforce LIVE.
3. Mellody Hobson stresses the importance of being 'colour brave'
Mellody Hobson has quite the resume: President of Ariel Investments, a member of the Board of Directors for the Starbucks Corporation and Estee Lauder Companies Inc., and is one of Time magazine's 100 Most Influential People in the World. To her credit, she's using this influence to encourage conversations about race in the workplace.
In a discussion with Salesforce Chief Equality Officer, Tony Prophet, Hobson shared her personal journey, and why she believes civil rights can't be left out of the boardroom.
Want inspiration? Watch Mellody and Tony's discussion on Salesforce LIVE.
4. The Customer Success Expo kick-off
Sure, the Customer Success Expo always boasts a lot of swag and bright shiny objects. But it also demonstrates firsthand how thousands of technology solutions work with Salesforce to help our customers succeed. The Customer Success Expo has now officially opened, and many Dreamforce attendees were eagerly making their way through the world's largest cloud ecosystem to discover the future of technology.
In addition to fun interactive experiences and plenty of social media photo opportunities, there are 100 demo stations, and more than 500 workshop and theatre sessions. Throughout Dreamforce, Trailblazers will be able to get hands-on with their favourite Salesforce products and learn how customers – like KONE, Citi, UCSF and more – are transforming their respective industries with Salesforce.
There you have it! The highlights from day one of Dreamforce 2017!

Make sure you head to Salesforce Live for the best online coverage of the world's largest tech conference or check out some of our local events coming up in the APAC region.