5 ways an Olympian builds resilience and smashes goals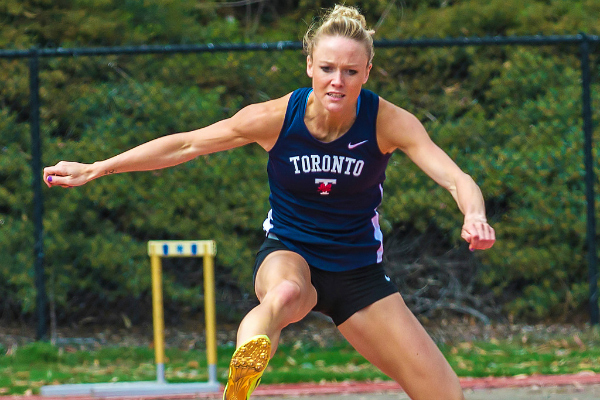 Olympic hurdler Sarah Wells has a tattoo of the word 'believe', and she writes the same word on her hand before every race. Why? "Unless you have an unwavering belief in your goal, it is not going to come true," she explains. She feels that when you truly believe in yourself, success is the inevitable outcome.
Sarah has a few other mantras that she lives by. They're the kind of phrases that could sound trite if they came out of the mouths of motivational speakers. When Sarah says them though, they are far from it. Each has helped her reach her goals, work her way to achieving her dreams, jump every last hurdle. They really have worked for her.
So when a crowd gathered in the Salesforce Sydney office recently, hoping for nuggets of wisdom from the Olympic athlete about being your best, or having a winning attitude – choice tips to write on Post-Its and stick to our screens – we got something far more real. And far more useful!

It quickly became apparent that Sarah really is in love with what she does; she would move mountains to be able to continue doing it. And she isn't just keen to succeed – she's determined, and she has a plan to make it happen.
So those mantras. Five rang out in Sarah's story, and each applies equally to anyone following their dreams.
1. Don't limit your goals
Sarah was in love with track and field by 15 years of age, joining her local club in 2005, and her potential in hurdles was recognised early. Incredibly, with only eight months' training behind her, Sarah qualified for the first national team and travelled to Marrakech, Morocco to represent her country.
She attributes this meteoric rise to an unwavering belief in herself, which was mirrored by her coaches. Since then, Sarah has been national champion four times and a national team member seven times. In 2012, Sarah represented Canada in the London Olympics and finished as an Olympic semi-finalist.
Sarah's lesson: Believe in yourself wholeheartedly and surround yourself with people who see no reason for you not to succeed.
2. Sometimes you'll hate that thing you love
This realisation came during a qualifying race for the World Junior championships in Beijing. Sarah recalls torrential rain and feeling an enormous pressure to win, which together culminated in negative thought.
"I was thinking 'I hate this sport; I'm not doing this again'," she says. She came out too fast at the start of the race and face planted to the floor.
Sarah's lesson: Negative thought undermines success – just don't do it.
3. Never give up
That fall, and the track-burn that came with it, was defining for Sarah – the sort of moment that could have ended her career as she sat on the track lamenting her poor fortune.
Instead, a snap decision to get back up and run saw her regain the ground she needed to win the race and qualify for Beijing.
"I realised I am the type of person who will overcome any obstacle no matter what – we all have this characteristic," she says.
Sarah's lesson: The right mindset and a willingness to pushing yourself outside of your comfort zone will carry you towards seemingly impossible goals.
4. Make choices, not sacrifices
Think of yourself as making smart choices, rather than sacrifices – you're choosing to do one thing instead of another in order to succeed, and martyrs don't tend to succeed!
Sarah recommends writing down your goals like a grocery list and mapping the measures you would be prepared to take to achieve them – a bit like writing a recipe for success.
When you finish one step, the next is already there, waiting for you. And you know what you need to do to make the next step towards your dream possible.
Sarah's lesson: A well-documented, step-by-step success plan helps you to accept tough choices with positivity, in the pursuit of your greater goal.
5. Discipline is your most powerful tool
According to Sarah there is a muscle they don't teach you about in anatomy class – your discipline muscle. It's hard to flex but, as you flex it repeatedly, it becomes easier.
Let's not be fooled into thinking that stretch goals are easy to achieve. Sarah makes it clear that hard work is required if you have a real passion to succeed – remember that point about smart choices versus sacrifices! But, she also knows that hard work will be rewarded.
Sarah's lesson: Break down your commitment one day at a time. What can you accomplish each day to bring you closer to achieving your goals?
These five mantras have seen Sarah through every one of her challenges, and she's still on the road to success. She's torn hamstrings in the lead-up to Olympic trials, going from number one in the world to missing out on qualifying because of injury, she's fractured her femur a year before the Olympics, taking nine months to heal.
At every barrier, Sarah has grabbed onto one of her lessons, drawn on her resilience and found new motivation to succeed. Every one of her lessons could apply equally to the work we do every day – and if we want to truly succeed, we need to apply them, draw on our resilience and find our motivation.