An Opportunity at Transformation: "I Just Couldn't Say No!"


Shanthi Padmanabhan had originally planned to take a year off from work. That was until Salesforce entered the picture.
"I only lasted two months when Salesforce came knocking," she told us. "I just couldn't say no!" The now Vice President, Customer Success Group (CSG) Regional Lead in India is more invigorated than ever. "What really attracted me to Salesforce is that, while our growth in India is at such an early stage, the potential is huge!"
"I'm passionate about transformation, and I have a great opportunity here at Salesforce to help our customers."
Shanthi's career began 33 years ago when she held a position as a lecturer at an engineering college. She was working on her Master's in Advanced Computer Software and teaching on the side. At 21, she was teaching students who were only two or three years younger than her. "It humbled me that I came out of my engineering degree with flying colors, but in order to teach, I had to learn again. It was no walk in the park!"
Shanthi then went on to work for several multinationals, spending 10 years in executive-level roles outside India. As such, she's able to view things through both a local and international lens.
Since beginning with Salesforce in June, her team has been focused on helping customers transform in the Asia-Pacific region (APAC). Their job is people-centric — they're there to help our customers through their journey and deliver them the best value possible.
"I love to create something, to build something lasting, and make an impact that way," Shanthi said. "I'm very passionate about leaving a people legacy and a business legacy behind, and that's exactly what we are doing at Salesforce."
We learned more about Shanthi and the CSG team in this Q&A:
What kind of impact does the CSG team make?
We really get to help problem-solve for our customers so they can participate in digital transformation and achieve extraordinary business outcomes. Our customers view us as advisors or partners that enable them unleash the full power of Salesforce in order to delight their customers.
What is your leadership style?
I like to keep my team informed and involved in everything I do. It's a very participatory leadership style. But different situations require differing approaches. I can go in depth, be operational, and "be in the dance," where required. But I can also step back, and "be on the balcony" looking at the big picture and driving strategy. I like the intensity and responsibility that comes with leadership. I love complexity. I love making a difference and I draw energy from working with people, both local and international.

What does it take to thrive in Customer Success?
At Salesforce, we look for cultural adds instead of cultural fits. Our employees bring their unique perspectives and backgrounds, and that makes us a stronger team. But there are some fundamental skills and mindsets that are particularly helpful in this field:

Empathy: You have to really care about others. Possess the ability to listen deeply to their needs in order to suggest solutions that solve their current pains and future needs.
Collaboration: Our CSG team works together and cross-functionally to achieve better results in a shorter timeframe for our customers. We look for people who embrace teamwork and communicate openly.
Positive Attitude: A constructive mindset is one of the most critical attributes to achieve success. A positive outlook enables us to find opportunities in tough situations. It invites joy into our lives. That optimism and excitement for life helps to build healthy relationships with others — including customers and coworkers. It allows us to see feedback — including constructive comments — as a gift and an opportunity to improve.
OK! Now let's get personal. What are your morning rituals?
My daughter Aishwarya lives in London, my son Arjun lives in Toronto, and my husband Padmanabhan travels for work. So, every day when I wake up I love to grab a coffee and check our family WhatsApp group to see what everyone has been up to. We post our daily highlights into that group to stay connected as a family.
What's your favorite food?
Calicut biryani. It's a combination of rice and chicken or vegetables simmered and cooked in butter. It's the most delicious rice-based food in the world. That's my favorite Indian food. My favorite global food is Thai.
Is there an app or gadget you can't live without?
I love reading, it really calms me. So, I can't live without my Kindle. It's one of the two things that keep me stress-free, along with Netflix.

What's your favorite movie?
Hidden Figures. It's about four women who wanted to work for NASA. This movie beautifully portrays the challenges a woman faces in a male-dominated industry.
What's the most interesting place you have been?
My love of history took me to Egypt and I absolutely loved it. We went there as a family seven years ago.
Who is your inspiration?
My mother Lalitha and my father Chandresekhar. I look back now and wonder how, with their limited exposure (no Internet, no mobile phones, not much travel), they were so progressive in their thinking. That's very inspirational. My husband, Padmanabhan, is another inspiration.
What is a quote that you live by?
"Don't just do what is convenient, do what is right."
Our CSG team is growing and hiring Customer Success Champions in Hyderabad and Success Managers across India. To join Shanthi and be a part of CSG India's invigorating growth, apply today!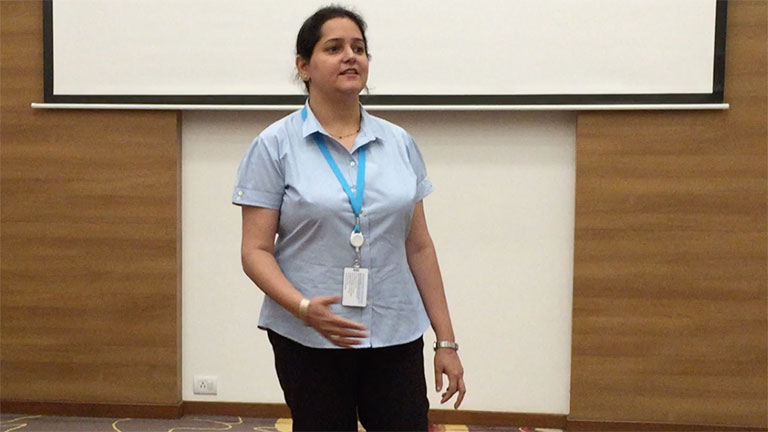 Sign up for our newsletter to stay in the know about upcoming jobs, tips to improve your work/life balance at your current job, and more!