Put patients at the heart of every decision.
Transform the way you acquire, service, engage, and innovate.
Create 1-to-1 patient journeys.
Understand the person behind the patient with a connected experience across every touchpoint from acquisition through care coordination and ongoing engagement on the path to better outcomes.
Collaborate across the healthcare ecosystem.
Make the shift to value-based care with a single view of the patient across teams of healthcare professionals, partner affiliates, and employees to deliver an exceptional patient experience.
Win member trust with a connected experience.
Deepen member relationships with a connected experience from sales and enrollment, to administrative and clinical support. Anticipate member needs with intelligence to deliver proactive care.
Deliver smart, simple, and personalized engagement.
Create a path forward together in today's era of shared-risk by connecting employer groups, brokers, provider networks, and employees on a single, intelligent platform.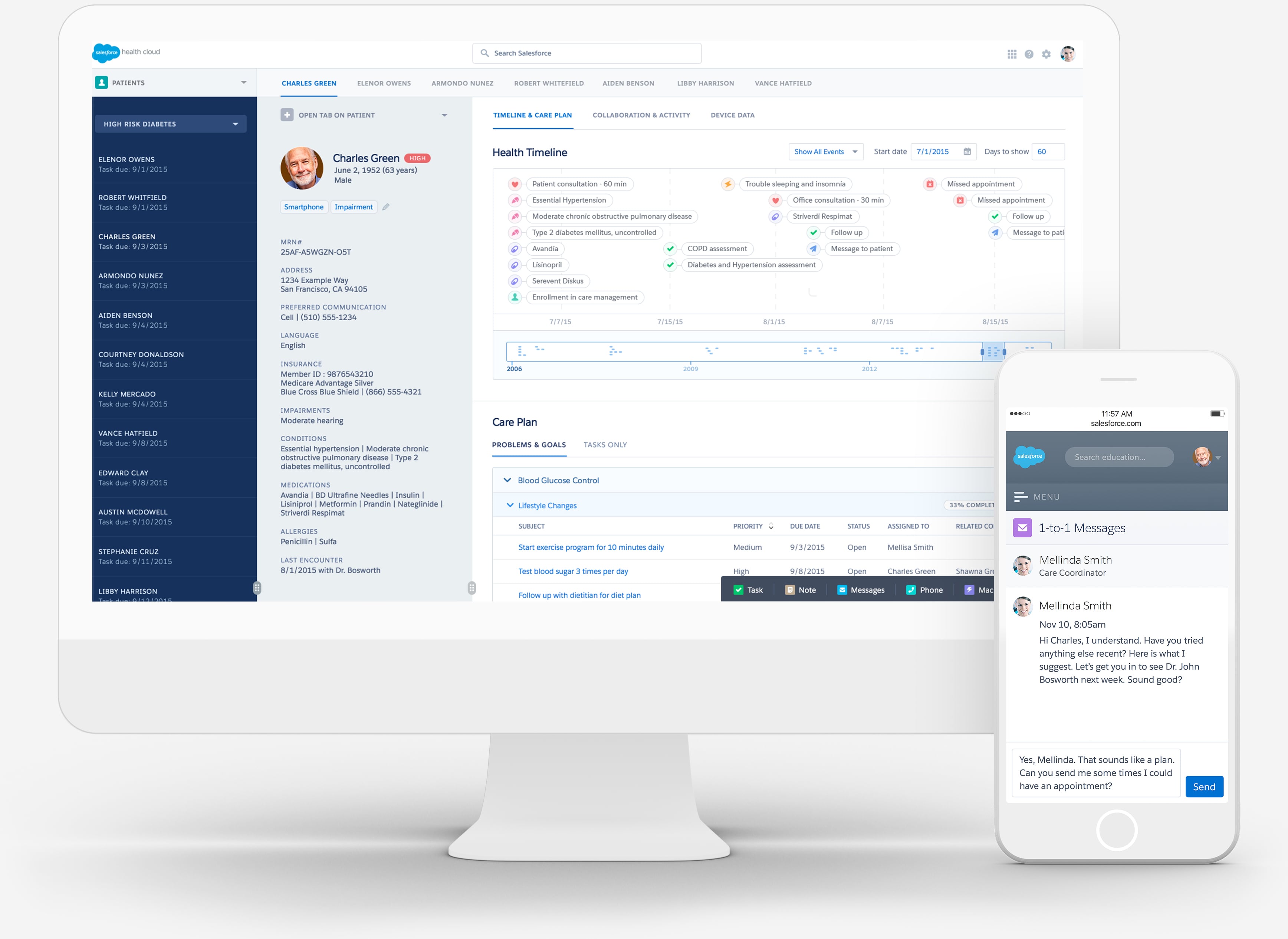 Move mountains for your patients with Health Cloud.
Visit our Health Cloud page and explore all the ways you can put patients at the center of care.
Discover all the ways companies succeed with Salesforce.

"t's really a matter of us evolving from a customer-focused company to a customer-centric company. That's the journey we're on."






Frequently Asked Questions
Health Cloud is a cloud-based
customer relationship management system
for healthcare providers, from Salesforce. It gives healthcare organisations a single view of each patient, allows for the tracking and scheduling of patient communication, and supports connectivity across teams and providers along the care pathway.
Healthcare CRM is used by healthcare organisations and businesses to manage patient information and to support communication with patients throughout their care. It functions like a business CRM but is tailored to the specific needs of healthcare providers and their patients. Related:
CRM for Life Sciences.
What is Salesforce Shield?
Salesforce Shield
is a group of tools that offer extra security to your
CRM
, so as to ensure regulatory compliance. There are 3 tools available - Platform Encryption, Event Monitoring and Field Audit Trail. They are designed to improve governance, transparency and data protection, particularly within regulated industries.
Be a trailblazer in this new era of connected healthcare.
Deliver the services that patients today really want. Learn how in this new animated infographic.