Understand consumer wants and needs. Then translate them into relevant messages that resonate.
Visualize Analytics 360 web interaction data directly in your Marketing Cloud dashboard to inform marketing that inspires real results.
Measure the effectiveness of your marketing with data from Salesforce and Analytics 360, and hone your strategy as you go.
Leverage your Analytics 360 audiences available in Marketing Cloud, so you can personalize messages and web experiences to consumers who are most likely to engage.
Quickly authenticate to Google Analytics 360 from Marketing Cloud, and easily tag each email with the Analytics 360 campaign parameters — without the help of your IT department.

Existing Salesforce customer Admins can sign up for the G Suite Promotion online.*
*"Manage Billing" permission must be enabled in the Admin Salesforce user profile.
Boost customer success and productivity with G Suite integration. Automatically sync emails, meeting notes, and more into Salesforce.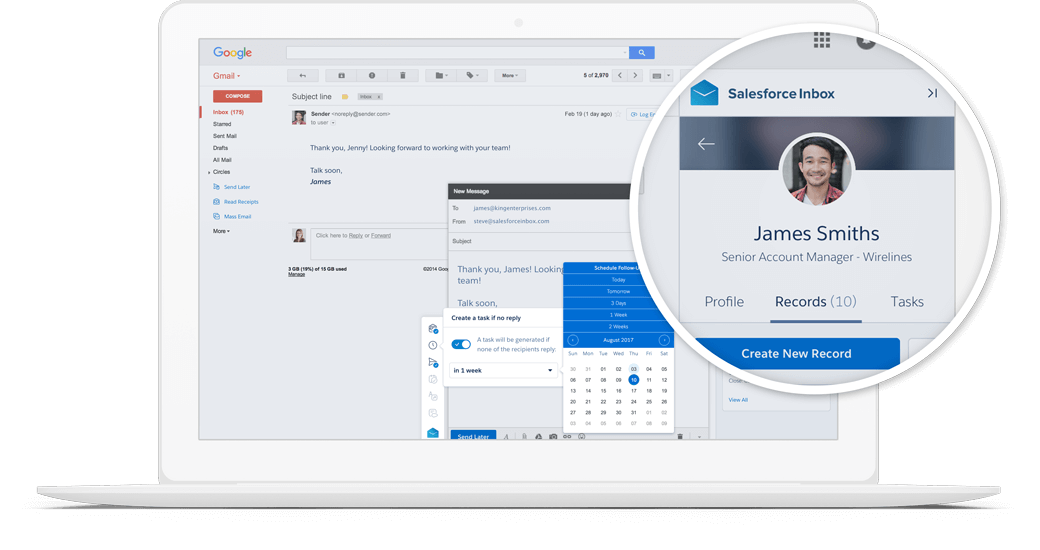 Connect contacts, accounts, records, and opportunities — directly within Gmail and Calendar. Sync emails and meeting notes and get artificial intelligence to surface and predict next best actions.
With the new Quip Live Apps for Google Drive and Google Calendar, teams can embed any list of Drive files, including Google Docs, Sheets, and Slides, or their Google Calendar, inside Quip, enabling users to access to information in a more collaborative, open cloud environment.
Surface relevant customer insights from within Salesforce CRM directly in Hangouts Meet, so reps have the insights they need to drive a deal forward or solve a customer service request.
Sell smarter with our new small business solution. Connect your Gmail and Calendar to our CRM to help automate tasks, organize your day, and accelerate sales productivity.
Your admin must have the "Manage Billing" permission enabled in their Salesforce user profile.