Customer Service Software Reviews
Finding the Customer Service Software that's Best for You

For as long as customers have existed, businesses are compelled to make them happy. Of course, the definition of "happy" hasn't always been the same, nor have businesses always bothered to go above and beyond when providing a service. Today's customers know what they want, have the resources to research it, and know they can take their business to one of your competitors in a click of a button if your organization can't provide what they want. As a result, good customer service and the skills around it have never been more important.; It's not surprising that high-quality customer service has a positive impact on an organization's success. Unfortunately, many businesses don't quite understand what skills go into good customer service. Some businesses tend to look at customer service as a single, nebulous objective—one that is somehow self-contained and complete in itself. The reality of the situation is that effective customer service is made up of a number of useful skills.; As such, in order for a business to successfully provide their customers with the kind of exceptional service everyone has come to expect, they need to identify and focus on developing the skills that go along with it.
Customer Service Software Reviews
Over the years, customer service software has witnessed significant change and growth. This is hardly surprising: After all, 33 percent of high-performing service teams qualify as heavy tech adopters. That means even software that's become standard in the business world is seeing significant improvement, as technology allows for more features and functions to be implemented. However, customer service software updates are now going further than mere features. Help desk software is increasingly becoming multi channel, making the process of responding to and flagging Facebook posts and Twitter mentions as important as providing direct support via telephone or email.
There are many available customer service solutions on the marketplace, and every year developers continue adding capabilities and features to broaden their product feature matrix. A number of leading vendors are giving heavy focus to automation, with the goal of simplifying the handling process of support tickets. Still others are busy building major analytics products which are assisting businesses identify and cut down bottlenecks in their customer support processes.
It's essential that you look beyond just the tool features when selecting a customer service software solution. Check customer service software reviews on factors like usability, architecture and affordability. You may also want to consider particulars regarding the vendor company itself: Its commitment, viability, reach, and post-sales support levels. After all, if they can't handle their own customer service well, should you really trust them with yours?
Customer Service Software to Fit your Specific Needs
Quality and exceptional customer service is critical for the success of your business. Many small companies informally manage customer support through email and other conventional business productivity tools designed to help field requests and share support responsibilities between teams. However, as organizations grow, it becomes more important to streamline customer support operations.
This is where a good customer service app becomes essential. Without efficient software to assist in managing growing customer demands, your service teams will be working without the appropriate information. This is inefficient, and often produces less-than-satisfactory results. Therefore, customer service apps become a must-have for customer support teams.
Perhaps the most critical step to finding a software solution that fits your needs is establishing and setting company goals. From there, decide what customer service means to your company and what objectives you're expecting that system to achieve.
Software to Serve Small Vs. Large Business
Whether you want a simple customer service software designed for small businesses, or a more robust solution for larger ones, there's suitable software for you. The truth is that whether you're a small, medium, or Fortune 500 business, customer service software has the potential to make a major difference.
Small businesses may not expect many customer service calls, However, chances are that their resources to handle such calls are limited, and when those inevitable calls do come in (and they will), it's crucial to meet the customer's needs as efficiently and satisfactorily as possible. A customer service software implementation can allow a client to access the answers to their questions quickly, at their leisure.
Larger companies, on the other hand, have a higher volume of customer service needs. Putting a good customer service software solution in place can help to prioritize service tickets, escalate them automatically as needed, provide customer service agents with easy access to the company's knowledge base as they respond to customer requests, and analyze customer service tickets to provide valuable insight.
No matter your size, what's important is that you study customer service software reviews and select a system that's appropriate for your specific needs—one which streamlines your processes and doesn't make matters more complicated.

High performers are 2.5x more likely than moderate performers to be heavy tech adopters
Customer Service Software Cost and Use Considerations
When evaluating software, price will no doubt be an important factor. The analysis instead ought to focus on a lot more than the simple, upfront costs. The majority of packages provide per-user prices, but it's wise to confirm what elements are factors in those prices. For example, training could consume a big chunk of your budget, as could ongoing support and needed upgrades.
While browsing, also look closely at the business processes at your organization. Engage your staff on what they want and need and compare the software against your company's bottom line. Then, you'll have a fair picture of the most suitable customer service software required. Because you know what your workers need, ensure the vendor or providers complete on-site implementation support. Verify what level of training is offered and the kind of user documentation provided to users.
Customer Service Software Commitment
Given that high performers are 2.5 times as likely as moderate performers to be heavy tech adopters, there's little doubt that the right software solution can have a dramatically positive impact on business success. The right customer service software has the potential to dramatically improving the productivity of your team, heighten customer satisfaction and boost sales.
However, merely adopting and putting into place a customer service software solution may not be sufficient to bring you the desired results. There must be a commitment to applying and effectively using the system. Before it's introduced, all relevant departments must be involved and engaged in its adoption.
Depending on the customer service software you select, it's possible to establish and measure your sales goals and keep tabs on email marketing campaigns. You can also keep a sharp eye on what comments are being made on social media by customers and prospects. In the end, this is what impacts your return-on-investment.
In today's competitive global business environment, choosing the most suitable tool for managing your customer interactions could be the most crucial business decisions you're ever going to make. Through a logical and needs-driven decision-making process, the team you have can comprehensively prioritize real needs, objectively evaluate available products, and then commit to the customer service app that serves your customers and company best.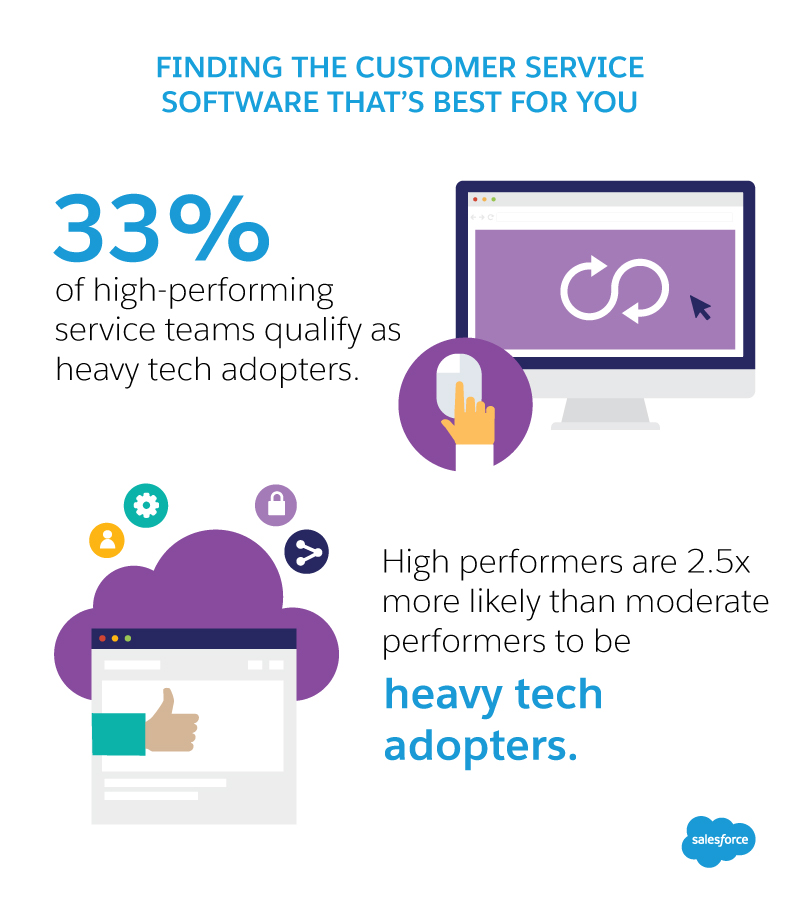 Questions? We'll put you on the right path.
Ask about Salesforce products, pricing, implementation, or anything else. Our highly trained reps are standing by, ready to help.