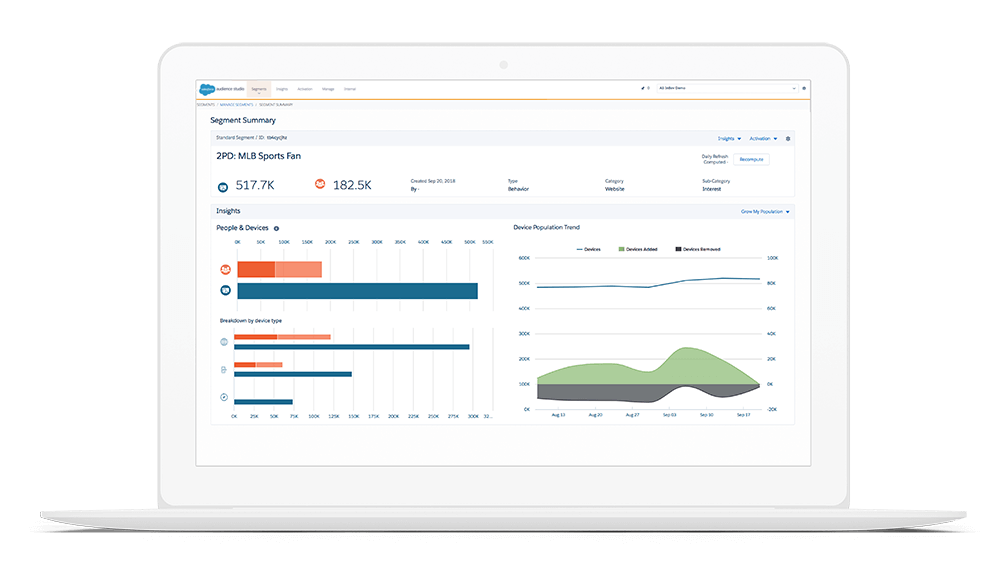 Unleash the power of the only DMP that captures, stores, and unifies data that goes beyond advertising.
Use machine learning and artificial intelligence to define and reach your target audience more efficiently and effectively.
Use a powerful device graph to understand a customer's unique footprint across all touchpoints, and deliver personalized, relevant messages in the perfect moment.
Unify disparate data sources to get a deeper understanding of your target audience.

Use AI to analyze billions of data signals across all customer attributes and actions to develop new target audiences.
Analyze unlimited event-level data attributes to understand the customer journeys that drive campaign lift.
Base the cadence of the customer experience on data, and know the perfect time to engage.
Uncover previously unnoticed insights by performing sophisticated data science analysis on massive datasets with Einstein.

Make compliance easier with automation on the best-in-class solution, so you can spend more time strategizing and less time worrying about red tape.
Manage consent with flexibilty for different data uses and regions.
Manage multiple policy regimes around the globe to match different trends, regulations, and audiences.
Shift audiences and customize consent management frameworks for different regulatory environments, and get your business one step closer to being change-proof.
Ask about Salesforce products, pricing, implementation, or anything else. Our knowledgeable reps are standing by, ready to help. Or check out our "Pricing and Packaging Guide" to learn more.