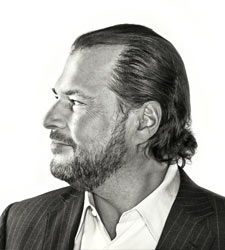 Marc Benioff is chairman and CEO of Salesforce. A pioneer of cloud computing, Benioff founded the company in 1999 with a vision to create a new kind of enterprise software company, with a new technology model based in the cloud, a new pay-as-you-go business model and a new integrated corporate philanthropy model. Under his leadership, Salesforce has grown from a groundbreaking idea into a Fortune 500 company, the fastest-growing top ten software company in the world and the largest CRM company.
For its revolutionary approach, Salesforce has been named one of the World's Most Innovative Companies seven years in a row by Forbes Magazine, one of Fortune's World's Most Admired Companies in the software industry five years in a row, and a Fortune Best Company to Work For nine years in a row.
Benioff has been widely recognized for his visionary leadership and pioneering innovations. He has been named one of the World's 50 Greatest Leaders by Fortune, 50 Most Influential People by Bloomberg, one of the top 20 Best-Performing CEOs by Harvard Business Review, Businessperson of the Year by Fortune readers, one of the Best CEOs in the World by Barron's, Innovator of the Decade by Forbes Magazine and received The Economist's Innovation Award. Benioff is also a member of the World Economic Forum Board of Trustees.
Benioff created the 1-1-1 model of philanthropy, which leverages the resources of Salesforce to improve communities around the world: donating 1% of Salesforce's product, 1% of its equity and 1% of employees' time to help nonprofits achieve their missions. Today, more than 3,000 companies have adopted the 1-1-1 model through the Pledge 1% movement. Benioff and his wife, Lynne, have focused their personal philanthropy on children's health, including building UCSF Benioff Children's Hospitals in San Francisco and Oakland, as well as on public education, homelessness and other social issues.
Benioff believes that businesses are the greatest platforms for change in the world. He has embraced World Economic Forum founder Klaus Schwab's multi-stakeholder approach to leadership, serving not only shareholders but all stakeholders--including customers, employees, partners, communities and the environment--to make the world a better place. Benioff is also inspiring fellow business leaders to do the same. He led a group of CEOs and business leaders in opposing state legislation that discriminated against LGBTQ communities, and instituted a company-wide salary assessment at Salesforce to ensure men and women were being paid equally for comparable work.
Benioff is a 35-year veteran of the software industry. Prior to launching Salesforce, he spent 13 years at Oracle Corporation. He founded his first company, Liberty Software, which created video games, at the age of 15. He also worked as an assembly language programmer in Apple Computer's Macintosh Division. Benioff received a B.S. in Business Administration in 1986 and an honorary degree of Doctor of Humane Letters in 2014 from the University of Southern California.
He is the author of three books, including the national best seller, Behind the Cloud.