Easily add two-way video chat support to your website or mobile app with Service Cloud Snap-ins and deliver a one-on-one service experience your customers will love.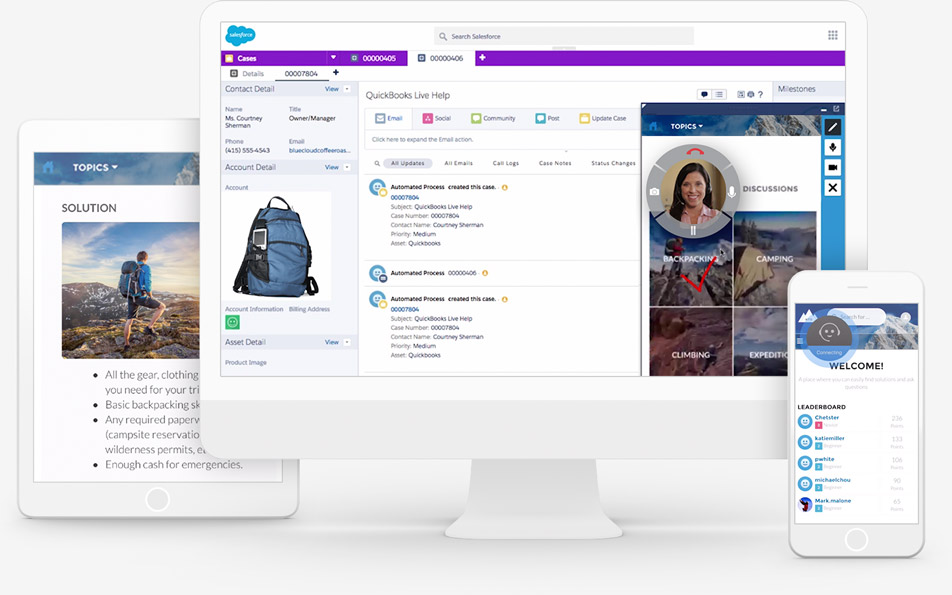 Easily copy and paste customer service channels right into your mobile and web experiences with our native mobile and web SDKs (software development kits).
See your customers and their issues clearly using two-way video chat. Provide better support and guidance by knowing exactly what they're looking at on their screen.
Quickly get to the right solutions faster with Snap-ins. Serve up relevant knowledge articles and other solutions based on contextual details pulled from app data.
Provide a seamless service experience to customers by customizing Snap-ins to reflect your brand at every touchpoint in the process.
Deliver a one-of-a-kind, personalized service experience your customers will love with SOS one- or two-way video chat that includes the ability to screen share with agent annotations.
Let your customers quickly browse or search for contextually relevant articles and FAQ answers on their own by integrating a knowledge base on webpages and mobile apps.
Provide personalized, real-time help to customers via text chat. Agents can seamlessly escalate the session to video chat whenever needed to resolve the issue.
Track and manage all case interactions right within the app, including configurable case publishing, case feed, and case list view.
You can start delivering lightning-fast customer service in a few easy steps. Plus, access our Success Community to learn from other users, and more.