Customer experience is a crucial differentiator in the communications industry. Gain a crucial competitive edge by launching seamless omni-channel experiences that put customers at the center of every interaction. With this solution, communications companies can increase conversion, empower employees to work together, and boost customer loyalty.
Customers today expect communications service providers to make their experience simple. That's the bar new over-the-top market entrants have set. Salesforce helps you meet those expectations by delivering a seamless, consistent, and personalized experience across all channels of engagement.
To survive and thrive in the face of fierce over-the-top competition, communications service providers must move rapidly to launch new services and business models. With Salesforce, you get a single digital platform that enables IT and operational agility, so you can deliver innovations and business results more quickly.

Communications service providers possess an abundance of customer data. But most of this data is dormant — barely any of it is used to create actionable intelligence. Salesforce helps you harness and activate this data to predict customers' needs, determine proactive treatments, and create personalized experiences.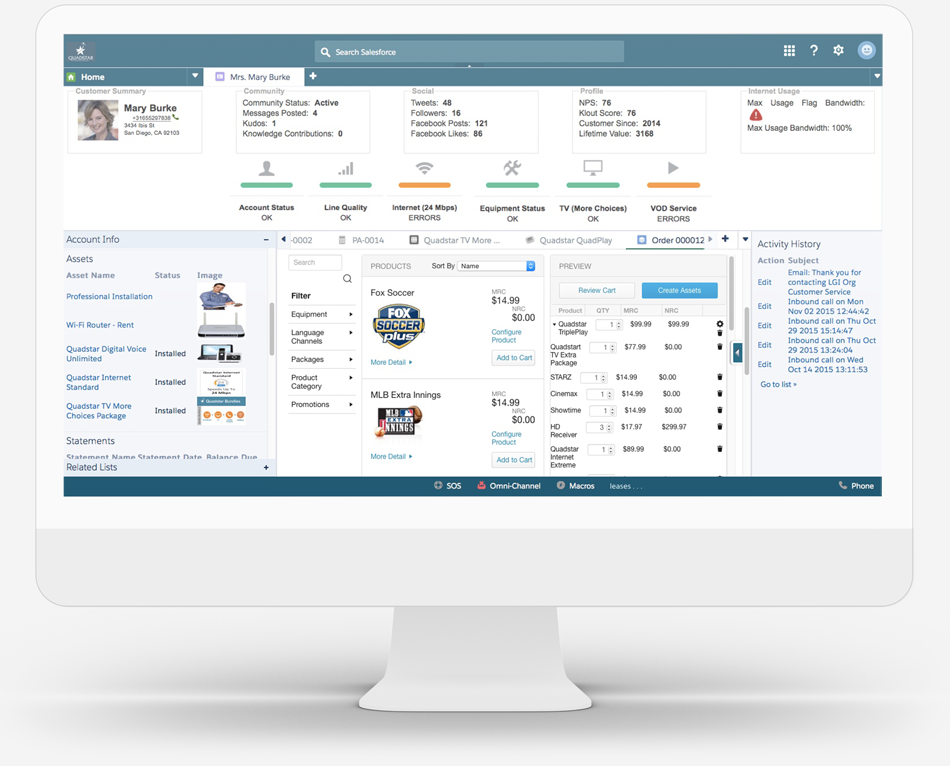 "Salesforce really helps connect all the different parts of our organization and provide a single view of our customer."
68%
OF MILLENNIALS WOULD LEAVE YOU FOR OTT SERVICE FROM GOOGLE OR FACEBOOK *
42%
OF CABLE SUBSCRIBERS BELIEVE THEIR PROVIDER HAS THEIR BEST INTERESTS AT HEART *
56%
OF CABLE SUBSCRIBERS GET THE BEST SERVICE WHEN THREATENING TO LEAVE *
* See more in our "2017 Connected Subscriber Report."  
Contact us to learn more about our communications solutions, and start taking full advantage of social, mobile, cloud, and analytics as you transform your business.