"Our higher purpose is to drive the Age of Equality."
– Marc Benioff, Chairman & CEO, Salesforce
At Salesforce, our culture is built around the Hawaiian concept of Ohana, which means family. Ohana is the deep-seated support system we nurture inside our company that extends from our employees to our customers, our partners and our communities. 

Nowhere is this family feeling felt more deeply than in our Ohana Groups – made up of members of our team coming from diverse backgrounds and their allies. Their mission is to make Equality a reality inside Salesforce and in communities where we live and work.  










"Inequality, in all its forms – Gender, LGBTQ, Racial or otherwise – is an issue that every company must address for its own benefit and to create a better world. We believe businesses need to focus on closing the Equality gap with the same energy put into creating new products and markets."

At Salesforce, we are working together with our whole Ohana – our employees, customers, partners, community organizations and the tech industry – to build a path forward to Equality for all. We are taking action across four key pillars:





We are on a journey to increasing Equality at Salesforce. We recognize we have much work to do. The journey starts with transparency, so we are openly sharing our Equality footprint for 2016.




Population of women and underrepresented groups has increased and kept pace with the rapid growth of Salesforce.
of interns and new college graduate hires in the U.S. were women or from underrepresented groups.
in the number of women in leadership positions at Salesforce. Trending positive for the second consecutive year.
of global promotions at Salesforce were earned by women, marking the second consecutive year of an increase in this area.
Achieving our vision of Equality for all is going to be a long journey, and ultimately, success will be reached by many steps along the way. The trail starts with transparency, education, inclusive dialogue, quick action, community building and an unbreakable commitment to making the world a better place.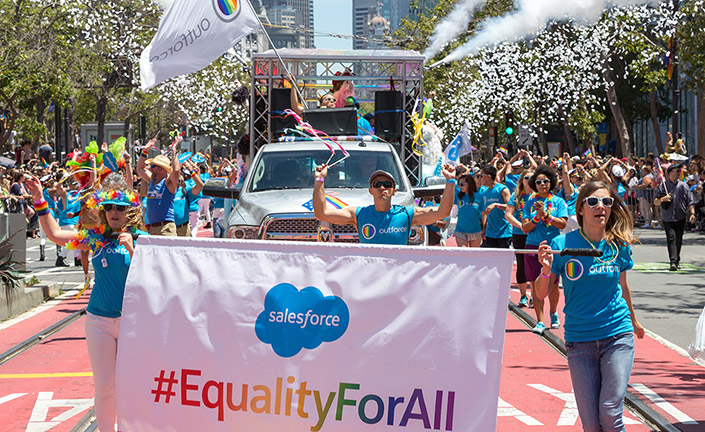 Civil rights pioneer Congressman John Lewis, Representative 5th Congressional District of Georgia, humanitarian and sports icon Billie Jean King, and Kaiser Permanente Chairman and CEO Bernard J. Tyson share how they have personally championed the fight for Equality and discuss how prioritizing diversity positively impacts every aspect of business and our world.
Interested in joining the #SalesforceOhana?