Set up a rich digital experience with out-of-the-box templates — or build your own custom experience to suit your specific needs.
Help customers quickly find answers with self-service portals and forums.
Help customers search the knowledge base to find answers, and resolve cases before they reach your queue.
Fully utilize your, and other customers', expertise to resolve cases. With Chatter, you can bring the best responses to the top of any questions, so users are confident they have the best answer.
Guide users to the information that matters most. Curate topics based on popularity, age, featured content, or whatever works for your business.
Improve customer relationships and decrease service costs by helping customers to see and pay invoices, update their account, and search your knowledge base for answers.
Give customers the power to update their accounts and to create cases and claims. And show customers' critical data in the simplified profile, and let them update their accounts on the fly.
Connect third-party systems like ERP and ecommerce to keep all your best practices in place and working together.
Use Salesforce Knowledge to create a responsive portal where customers can search for answers to their most pressing questions about your product and brand.
Deliver the sales content, tools, and experience your partners will love.
Automate forms, processes, and tasks at every step. And create training and certification programs that track partner progress.
Eliminate lead conflict, deliver qualified leads using simple workflows, and deliver accurate quotes. And with Einstein AI, partners can intelligently surface the content and files they need to be more productive.
Help partners build, track, and analyze marketing campaigns with simple tools. Give them access to your marketing and campaigns to create beautiful co-branded content.
Create, brand, and publish custom digital spaces that shine on any device.
Select from our prebuilt themes and add the color, fonts, and style that match your design or brand. And tailor your experience to cater to a variety of audiences within your site.
Upload and select images for your header, logo, rich content editor, and custom components in our lightweight CMS. Store and access these files in your asset library — or connect content and settings from your old CMS.
Choose from our library of prebuilt, drag-and-drop components with Lightning Community Builder.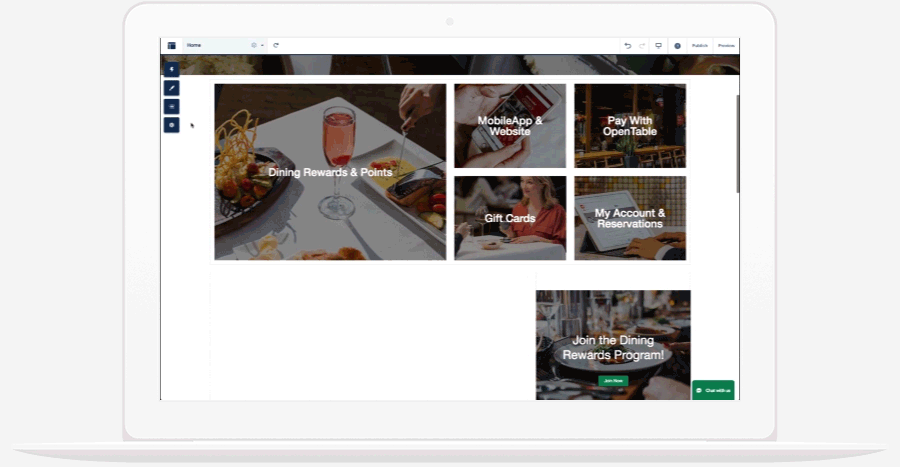 Use components to add functionality and connect CRM data.
Use Audience Targeting to control which page, theme, and component is visible to each group and user.
Connect and access data from external sources with clicks. Easily bring in data from legacy systems (SAP, Oracle, Microsoft, you name it).
Quickly create industry-specific experiences with Lightning Bolt solutions. Built by our ecosystem of partners, Lightning Bolts contain industry process flows, app, and components that integrate seamlessly into your experience and with the Salesforce Platform.

Here's just a few examples of our industry solutions: